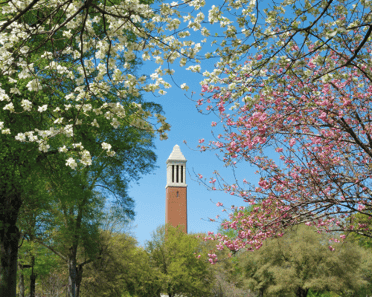 Tuscaloosa, Alabama, is the third Alabama market to join the REI Nation repertoire. All-in-all, we now bring investors opportunities in:
Memphis, TN
Houston, TX
Dallas-Ft. Worth, TX
Oklahoma City, OK
Tulsa, OK
St. Louis, MO
Little Rock, AR
San Antonio, TX
Huntsville, AL
Birmingham, AL
Tuscaloosa, AL
Why Invest in Southern Markets?
A common thread among REI Nation markets is that they are predominantly located within the southern United States. This is by design, as we have come to see significant benefits in basing real estate investment in this region.
Affordability
The Housing Affordability Index (HAI) is a valuable tool when we look at and evaluate affordability across the United States. Housing affordability has become an increasingly important issue not only in real estate industry discourse but in the economic conversation at-large. Though 2020 was a break-out year for median home prices, it only accelerated the upward trends we've been seeing since the end of the Great Recession.
Studies show that just a $1,000 increase in median home prices can push hundreds of thousands of buyers out of the market. Roughly 60% of Americans are unable to afford a new home at their local median price.
Though prices have been on the rise in the South, the Housing Affordability Index shows us that it offers more affordable housing prices than much of the United States. The Midwest competes in terms of affordability, but this is only because of a more sparse population. The denser the population in a market, the more expensive real estate becomes.
This affordability is key in not only attracting a growing population and business ventures but in meeting necessary margins for real estate investment. For those investing out-of-state, southern markets often offer prices much more amiable to an investor than local real estate. This empowers investors to scale their portfolios more quickly as it demands less of their resources to acquire property.
Patterns of Migration
Population growth is one of the key indicators of a healthy and growing real estate market. With a growing population comes growing housing demand. According to Freddie Mac, the U.S. population in the South and West grew seven times faster than in the Midwest and Northeast between 2017 and 2019. The United States Census Bureau reports that the South and the West have experienced rapid growth for at least a decade. While in the West this population growth was largely natural (the result of more births than deaths), the bulk of population growth in the south was due to net domestic migration.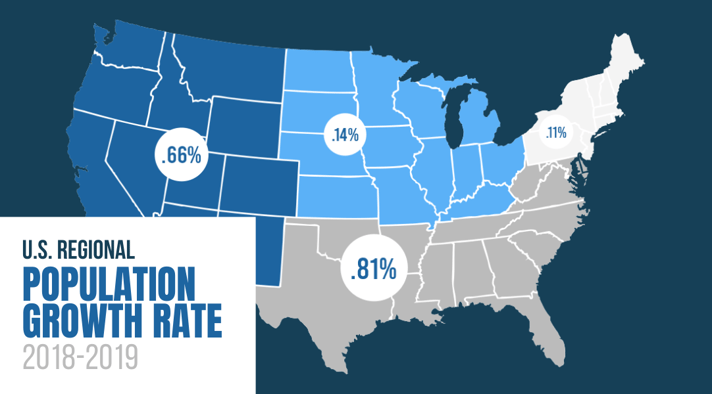 A variety of factors contribute to these patterns of domestic migration, but we have only seen these trends accelerate throughout 2020 and 2021. The COVID-19 pandemic did not create new trends as much as it heightened existing ones. More people moved to the south, not only seeking a reprieve from the economic crisis through more affordable costs of living, but in a desire for more sun, more space, and fewer restrictions in less dense southern markets.
As a result, the south has experienced rising home prices due to this influx of demand. At the same time, the region remains one of the most affordable in the nation.
Stability
For real estate investors, stability is the key quality in the bulk of their investment portfolio. Although real estate has been hot in the majority of inland U.S. markets — primary markets are the ones that suffered throughout the pandemic — the swell in prices and demand has continued to be evenly tempered in many southern markets.
Secondary and tertiary markets are highly desirable for buy-and-hold investors. These markets tend to experience predictable growth and are less prone to overheating. Historically speaking, the markets that fared best in the aftermath of the Great Recession were markets that had a strong economic backbone and those that maintained reasonable housing prices. When home values bottomed out, they did not have as far to fall and rebounded more quickly.
This was the case in Houston, TX, which emerged as one of the strongest real estate markets during Great Recession recovery — a title it has held for over a decade.
Southern markets are almost exclusively secondary and tertiary markets. Here, investors will contend with fewer bidding wars and more realistic pricing that reflects the real value of the real estate in question. This stability combined with population growth and diverse economies sets the foundation for excellent buy-and-hold investments.
This is why the south, in general, makes perfect sense for real estate investment. Of course, that includes the great city of Tuscaloosa, Alabama.
An Introduction to Tuscaloosa, AL
Tuscaloosa is located in west-central Alabama, just an hour from Birmingham. It's the fifth-largest city in the state with a metro population of 235,628. The city is most known as the home of the University of Alabama, the oldest and largest public university in Alabama with approximately 40,000 students enrolled. Naturally, the university is the city's largest employer with 11,403 employees. Its football program, the Crimson Tide, is a major draw for tourists during football season.
Other notable employers in Tuscaloosa reside in public education, manufacturing, mining, and healthcare sectors.
Twenty-five percent of residents in the Tuscaloosa metropolitan area are employed by local, state, and federal government agencies.
Like Birmingham, Tuscaloosa experiences a humid subtropical climate. This results in mild winters and hot, humid summers. Storms impact the region throughout Spring and Summer, though Tuscaloosa is inland enough to avoid any serious impact from Gulf Coast hurricanes.
As of the 2010 census, Tuscaloosa boasted a square mileage of just over 60mi and a population density of 1,501.9 people per square mile.
To give you some perspective on how this population density compares to other cities, New York City has a population density of 27,016.3 per square mile. As a state, Alabama has a population density of 3,503.8 per square mile.
Tuscaloosa has long held a reputation for livability. It has been named "Most Livable City," among the "100 Best Communities for Young People," by America's Promise, and "Best Places to Launch a Small Business" by CNN Money.
Driving Forces in the Tuscaloosa Economy
As real estate investors, the temptation may be to pay attention to real estate metrics alone. However, the local economy of a market is largely indicative of future success. A strong economy means more jobs, more stability, and incentives for people to live and work there for a long time. For real estate investors, this means lower vacancy rates, longer-term residents, and steady property appreciation.
The local economy sits at the heart of success in real estate investment. This is just one of the reasons that markets matter!
When we consider Tuscaloosa's economy, there are a few key factors that shape investor evaluation.
The University of Alabama
Where Tuscaloosa and the state of Alabama are concerned, the significance of the University of Alabama cannot be understated. In general, the presence of colleges and universities positively impacts the local economy. This impact is not limited to providing higher education and the degrees that lead to higher-paying jobs. Colleges are a major employer on a national scale. About 2.5% of the U.S. population — some 3.98 million people — are employed by colleges and universities.
While in many ways it can be argued that a college education is worth less than it once was, degree-holders are a driving force in the local, state, and national economies. Degree-holders not only have potential for employment in higher-paying, more specialized fields, but they are twice as likely to own a small business as their non-college-educated counterparts.
As the nation shifts from an industrial economy to a knowledge economy, the need for a postsecondary degree increases. 99% of all jobs created since the Great Recession have gone to those with postsecondary degrees.
The economic impact of a college or university is two-fold. In one respect, an increase in post-secondary education lays the foundation for well-paid, highly specialized employees and entrepreneurs. In another, the college institution itself stimulates the economy by attracting students from across the country and the world. 2.8% (roughly 1,100) of the UA student body are international students. These students live, work, and spend in their college towns while also creating demand for student-centric services and businesses.
It is estimated that the University of Alabama has a $2.6 billion impact on Alabama's economy and over 10,000 employees. During football season, home games at UA have a total estimated impact of $131 million in Tuscaloosa County.
While the University of Alabama is by far the largest and most impactful university in Tuscaloosa, it is not the only institution of higher education. Stillman College and Shelton State Community College call Tuscaloosa home as well.
Other Industries
Though education is by far the largest industry in Tuscaloosa, healthcare and manufacturing are power-players in the local economy. For reference, 19.4% of civilians in Tuscaloosa are employed in education (compared to the state rate of 9.1%). Healthcare accounts for 14.6% of the employed population in Tuscaloosa. Manufacturing accounts for 13.1%.
The Tuscaloosa metro area hosts the only Mercedes-Benz U.S. International manufacturing plant in the United States. The plant is in the city of Vance, just 19 miles from downtown Tuscaloosa. They employ over 4,000 people. Other significant manufacturers in Tuscaloosa include Michelin/BFGoodrich Tire Manufacturing and Phifer Incorporated, an aluminum and fiberglass screening manufacturer.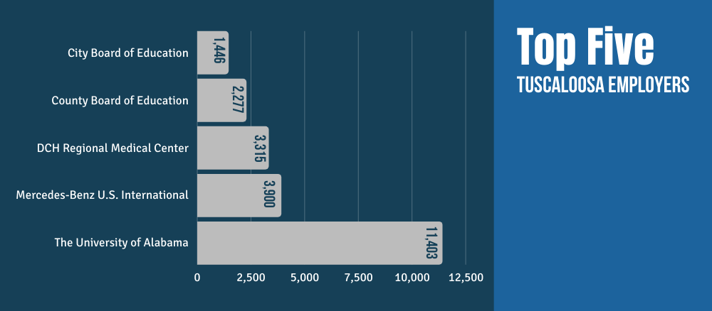 Economic Trends to Watch
The COVID-19 Impact
Every market across the country was impacted by the COVID-19 pandemic. Tuscaloosa is no exception. Before the pandemic caused rapid increases in the unemployment rate, Tuscaloosa saw a rate of 2.6% (March 2020). This is matched by Alabama's pre-pandemic unemployment rate and significantly lower than the national rate of 4.4% in the same month.
Across the board, unemployment peaked in April and has been on the decline since. As of January 2021, Tuscaloosa's unemployment rate was down to 4.6% (compared to the national rate of 6.3%.)
Unemployment persons hit a high of 20,752 in 2020, but that number is already back down to 5,341.
Tuscaloosa in particular was impacted as universities moved to off-campus learning for much of the year and SEC football halted. Because the University of Alabama is so instrumental to the local economy, the temporary loss of 27,000 out-of-state students resulted in a half-billion drop in economic impact in 2020.
Of course, as students return to campus for in-person learning, vaccinations increase, and sports resume, the economy will regain its footing. As of October, UA was already reporting an uptick in Alabama's economy. Alabama fared better than many other states, as did many in the U.S. south. Though challenges remain, economists expect Alabama to be well into recovery later in 2021.
Future Projections
Forbes included Tuscaloosa on its list of Best Places for Business and Careers 2019. Although 2020 put a damper on the city's job growth, the city saw a 1.8% increase in jobs between 2018 and 2019.
When we consider the economic future of a market, we must look beyond immediate history. We cannot judge a market solely by how it fared through an unprecedented global pandemic. Before 2020, Tuscaloosa was on a slow-and-steady upward swing.
More affordable states like Alabama, and their attractive urban markets like Tuscaloosa, are going to be major drivers of economic recovery in the coming months. The coastal cities were most impacted by the coronavirus recession. Smaller, less dense areas — particularly those in favorable climates — saw surges in demand.
This is true of Tuscaloosa, too. The population of Tuscaloosa has grown by 12% since 2010, according to the U.S. Census Bureau. Tuscaloosa grew, if marginally, during the pandemic. Tuscaloosa has grown since the early 1900s, but that rate of growth sharply increased in 2000. At the turn of the century, Tuscaloosa had a population of 77,900. Today, in 2021, the population in the city proper has reached 103,000.
The rate of growth has been steady for twenty years, despite the Great Recession and the pandemic. This, combined with Tuscaloosa's reputation as a leader in education and manufacturing, set the stage for a bright future.
Because Tuscaloosa is a more affordable market (the cost of living is 7% below the national average, according to Forbes) with a smaller gap in income inequality, the city is promising as an investment opportunity.
The 2021 Tuscaloosa Real Estate Market
The real estate market in Tuscaloosa is reflective of its economic conditions. More affordable properties with modest, steady appreciation define the market. For example, when we look at the essential statistics as reported by the Culverhouse College of Business from their Center for Alabama Real Estate, we see promising patterns.
Like other markets, Tuscaloosa has experienced shrinking inventory through 2020. Year-over-year, supply is down by 28%. At the beginning of 2020, there was a 4.4 months' supply of houses on the market. In January 2021, supply was down to 2.1 months.
Median sales prices have been on the rise, too. Let's compare a few numbers.
Tuscaloosa Real Estate by the Numbers
| | | |
| --- | --- | --- |
| Month / Year | Average Sales Price | Median Sales Price |
| Jan 2021 | $257,446 | $209,900 |
| Jan 2020 | $225,057 | $189,900 |
| Jan 2019 | $234,102 | $179,900 |
| Jan 2018 | $213,363 | $175,500 |
| Jan 2017 | $188,122 | $149,900 |
| Jan 2016 | $183,497 | $155,000 |
| Jan 2015 | $192,969 | $159,900 |
| Jan 2014 | $162,254 | $136,450 |
| Jan 2013 | $166,341 | $132,900 |
| Jan 2012 | $176,813 | $145,750 |
| Jan 2011 | $156,607 | $138,900 |
| Jan 2010 | $142,029 | $135,900 |

While there has been some ebb and flow in average and median sales prices in Tuscaloosa, the overall trajectory is upward. Twenty years ago in 2001, the median sales price was just $121,450. A property held over those twenty years could reasonably be sold for nearly $90,000 more than it was purchased for. Even an investor who holds a property for at least five years could expect appreciation to pay off in Tuscaloosa.
Between 2015 and 2020, the median sales price rose by $30,000. That profit alone could finance a downpayment on another investment property — and that's not to mention the passive income accumulated in the meantime.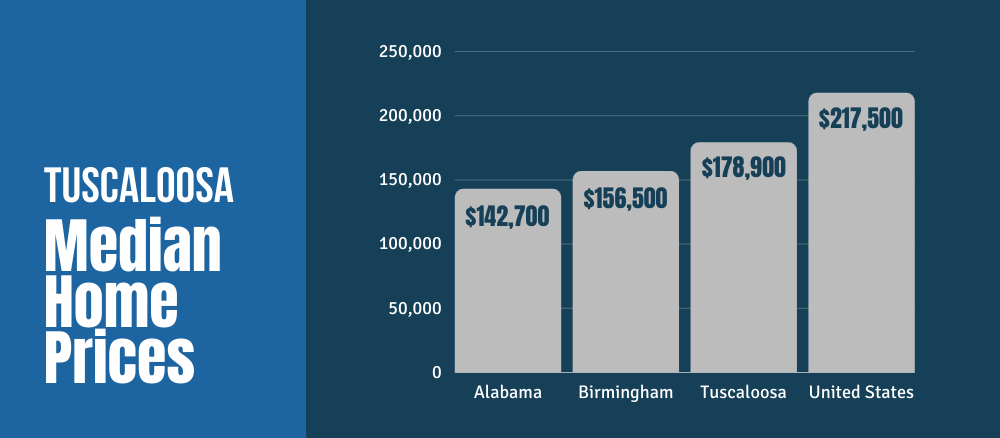 Sales prices, of course, differ from the real value of a property. According to Neighborhood Scout, the median home value in Tuscaloosa is $196,821. There isn't too much of a gap between the median home value and median sales price, which should encourage investors.
It means that the Tuscaloosa market is not overheating or over-valued. As a result, you should be able to get a lot for your money in this market. With the lion's share of properties (40.1%) landing in the $119,001 to $237,000 range, buyers won't struggle to find quality properties at reasonable prices.
Types of Properties Found in Tuscaloosa
Demographics inform our investment decisions. Not only can we see that Tuscaloosa is even and stable in the real estate department, but its types of properties and inhabitants are also encouraging.
Only 29.9% of homes in Tuscaloosa were built after 2000. 41.1% of homes were built between 1970 and 1990. For real estate investors, this demonstrates prime opportunities. New construction has been on the rise in Tuscaloosa despite lagging in other regions. New home permits increased by 28% in February compared to a five-year average between 2016 and 2020. New home starts were up by 44% by the same metrics.
New construction is in high demand across the nation and tight inventory makes competition stiff. For the real estate investor, capitalizing on an older property and appealing to rental residents with modern renovations not only forces appreciation but meets the aesthetic and quality expectations that modern-day buyers and rental residents have for their homes.
50.1% of Tuscaloosa homes are single-family while 37.3% are apartment complexes. With an astounding 57.2% of people in Tuscaloosa renting instead of owning, there is a clear and obvious demand for single-family rental properties.
That demand has only increased since the COVID-19 pandemic shifted cultural priorities for space, distance, and amenities.
Tuscaloosa Renting and Affordability
Despite a more affordable cost of living and more moderately priced real estate in Tuscaloosa, there is evidence that the nationwide affordability crisis has made a mark on this idyllic southern city. The median rent in Tuscaloosa is $844 — under the national median of $1,062. At the same time, rent in Tuscaloosa takes up fifty percent or more of household income for 29% of residents.
One of the causes may be a lack of wage growth. Though median household income has risen, inflation-adjusted statistics show that that growth in no way has kept up with home prices or rental rates. In 2019, the median household income in Tuscaloosa was $49,721. In 2009, it was $47,800.
While Tuscaloosa's reputation as a college town might make investors expect higher rates of turnover, statistics show that the majority of rental residents in the market stay put for longer than it takes to earn a 4-year degree.
37% of rental residents moved in between 2010 and 2014. 33.2% moved in between 2015 and 2016. That means the majority of rental residents in Tuscaloosa have stayed put for at least four years, and more often, five or more.
While the university climate informs much of Tuscaloosa's economic and demographic makeup, real estate investors are more likely to find longer-term residents.
The Bottom Line
Tuscaloosa, Alabama, like many comparable southern markets, is defined by a strong local economy, a more affordable cost of living and cost of real estate, and modest, stable growth. For buy-and-hold real estate investors, Tuscaloosa offers investment properties at a reasonable cost in a not-too-competitive environment. At the same time, demand is here — reflected in an ever-tightening inventory and the number of new homes being built.
A market that demonstrates growing appreciation, a hot but not-too-hot climate, high rates of rentership, and long-term resident retention is a recipe for success for buy-and-hold real estate investors.
Don't overlook the opportunities waiting for you in this great Alabama real estate market!
Ready to get started? Take the first step today.