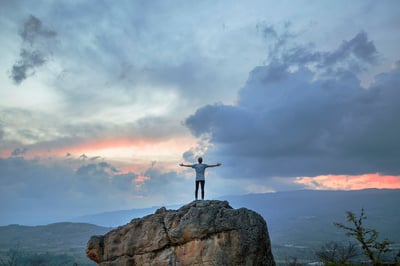 In real estate investment, there is no shortage of competition. Trends are reflecting the proven nature of real estate investment and have been for over a decade. In 2007, some two-thirds of all investors were focused primarily on the stock market. That number fell to around 50 percent as real estate began to attract more investors in a post-Great Recession America.
There are 44 million homes in the United States owned by investors and occupied by residents. That's in comparison to the 75 million homes that are owner-occupied. Of those 44 million homes, 74.4 percent of rental properties are owned by individual investors versus investment trusts or other companies.
To put it in blunt terms, competition is steep in the real estate investment world!
In 2020, this trend has only heightened as the stock market struggles and real estate remains relatively steady and stable despite pandemic-related economic woes. People are seeing and understanding more and more that real estate investment is one of the best options for wealth-building out there.
On one hand, the growth in real estate investment is a testament to the strength of the model. At least, for those who go about it the right way. A statistic has been seen from time-to-time that 97 percent of real estate investors fail. This number might not be right on the money, but it is revealing. As real estate investors, we may be on the path to wealth and financial freedom, but without the right partners, know-how, and experience, that path might end in a ditch!
One of the reasons investors fail is that they are unable to deal with the crowds and the competition. So how do real estate investors win even when they face competitors?
3 Ways Smart Real Estate Investors Win Against the Competition

Don't Play the Same Games
While fighting it out in hot real estate markets seems to be the "natural" setting for investors, it's not always the wisest. In fact, "hot" real estate markets bring with them the biggest risks because they have much more to lose and much farther to fall. You will find, too, that these markets draw in more than their fair share of elbow-throwing. It's in these environments that bidding wars are common and the profit margins of one's investments shrink.
Let us tell you something that should come as a big relief: you don't have to play those games. Real estate investors have endless opportunities before them — not just in big, hot, primary markets. You don't have to be rich, you don't have to take part in the bidding wars. It doesn't have to be a long process of a headache-inducing hassle.
Instead, turn your attention to the less sensationalized markets that are characterized less by explosive (and often over-inflated) growth and demand and more by their steadiness. Secondary markets are less competitive but, when rightly chosen, experience stable growth and demand due to market health and consistency. Where you invest matters — not only in terms of property acquisition but in long-term risk and reward.
Rely on a Turnkey Company
As real estate investing grows in popularity, you may find competition even in secondary markets! As time goes by and trends shift away from primary markets, it can be tough to find great opportunities even in less "hot" areas. However, if you rely on the right turnkey partner — like REI Nation — the endless search for properties and the never-ending battle for the best price will never be a problem.
Be sure to check out: 4 Roles Your Turnkey Company Should Play in Your Investment Success
REI Nation curates properties ideal for the passive real estate investor. From the market at-large to neighbors, demographic trends, and individual properties, our attention is on every detail that positions your investment as reliable and wealth-building. Not only that, but you never have to duke it out with other investors in a bidding war! Allow us to be the ones who save you the hassle and headache of searching for the right properties and fighting to win the bid.
Prioritize Service
Acquiring a rental property is only the first part of the battle. To win the proverbial war, investors have to focus on how the day-to-day impacts the long-term. Investors must minimize resident turnover and increase lease renewal. You want your residents to want to stay and struggle to find reasons to leave. Many passive investors fail when their management and customer service skills are lacking!
For our part, REI Nation is primarily focused on our quality of service — not just for investors, but for our residents. It is this dedication and attention to the customer experience that sets us apart from other turnkey companies. We won't lie — REI Nation looks like a premium option. But when you consider how our premier management services save you from big risks, increase occupancy, and create a stable, reliable real estate portfolio...you'll find it's well worth it!
Partner with REI Nation today not only for turnkey investing success but to save yourself the headaches and hassles of going at it alone!