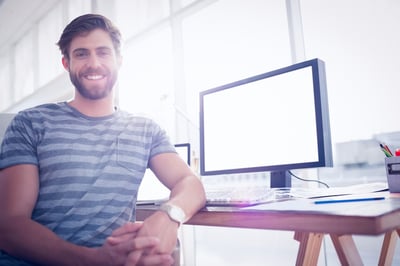 If you could name one thing holding you back from a career investing in real estate, what would it be? There are plenty of things you could name. A lack of resources. A lack of experience. A bad market. Ultimately, though, the biggest thing standing in the modern, would-be investor's way is a lack of time.
Is time really an obstacle?
When we consider our busy schedules and professional lives, the idea of taking up something new can be completely overwhelming. If we have a full-time job, a spouse, kids, and social obligations, it all adds up to a jam-packed schedule where we can't possibly start a new venture, even if we have the money to put towards a real estate investing career.
After all, real estate investment demands so much time and attention. You have to find properties, make deals, perform inspections, find residents, and manage the properties...right?
There's no way a busy professional has the time to do it all, especially without prior experience.
There's one way you can overcome this obstacle and successfully invest in real estate: by going turnkey.
How Turnkey Real Estate Investing Defeats the Time Crunch
It defeats the learning curve.
For new real estate investors, one of the more potentially time-consuming elements of investing is simply learning the ropes. It's learning the ins-and-outs of investing in real estate, researching ideal markets, building up contacts, and making sure your first decisions in the business are good ones. This can be an arduous process, particularly if you are unfamiliar with it.
Related Article: 10 Reasons We Love Turnkey Real Estate Investing
One advantage of turnkey real estate investment is that you are not just buying a property, but you're buying into decades of combined experience from your turnkey provider. A good turnkey company isn't just there to act as a broker—they're there to invest in your success. As such, you should expect that they will help you navigate the world of real estate investment and make the right decisions for your long-term portfolio growth from the very beginning, no matter how much experience you have.
It lets you step right into earning passive income.
For would-be investors who feel overwhelmed by the length of time it may take to go from beginning to invest to actually seeing your hard work pay off, there's hope. Turnkey investing has a huge advantage in that you are able to step in and immediately start earning passive income.
As a turnkey investor, you skip over many of the hurdles that trap other investors. You don't have to worry about property inspections, renovations, or even hunting down a resident for yourself. You can figuratively "turn the key" and step right into streams of cash flow.
This is extremely valuable when you take into account just how valuable your time really is. When there's no time to spare, why would you do it any other way?
Related Video: Watch Chris Clothier's Interactive Webinar on The Turnkey Revolution!
It eliminates the heavy lifting and hassle.
Saving time is not valuable only at the outset when it comes to real estate investment. It is valuable throughout the investing process. In turnkey real estate investing, you reap the benefits of your provider's expertise and a quick path to cash flow. The hassle that can come with real estate investment is also eliminated!
How much time do you think you would spend dealing with your investments if you didn't have a trusted property management team taking care of your residents and your properties for you? If renovations and repairs weren't taken care of?
You would be worrying over residents, dealing with maintenance calls, searching for contractors, and dealing with all of the stress and mental strain of managing a property even when it wasn't actively taking time out of your day to do it.
When you invest in turnkey real estate, this burden isn't on your shoulders. You're an investor and just that. You aren't taking on a second job or a big headache. You can rest easy knowing that you have property managers taking care of things for you. All you have to worry about are your next steps in growing your portfolio and achieving your best financial future.
Don't let a lack of time stand between you and your best financial future. Learn more about investing in turnkey real estate with Memphis Invest.