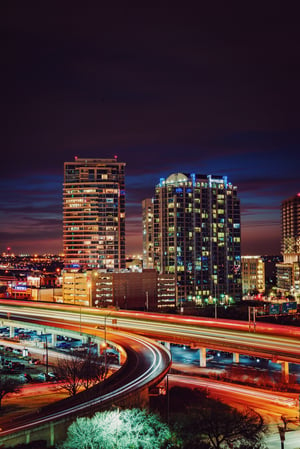 Naturally, we assume that only the biggest, boldest, and best survive when it comes to the Lone Star state and especially where its biggest cities are concerned. Dallas is certainly no exception. That said, Dallas ranks in the top 10 for capital venture investing with an average return of 3.4 times the initial investment.
$5.4 billion dollars were invested in local Dallas businesses in the past seven years, which actually represented a cooling of the Dallas venture capital market.
As a metropolitan hub with a central location, ever-growing landscape and cultural mecca, it's no wonder that Dallas is not only a titan of economic activity but an ideal incubator for startups and small businesses. It is well known that job growth is one of the city's greatest assets, and much of that job growth comes from its strong small business sector. Even in the middle of the 2016 oil crisis, small business growth in Dallas remained strong enough to keep the city in the top two in the nation.
While larger businesses may seem like the big players in the economy, it's the small businesses (defined as those that employ 1,000 employees or fewer) that truly add up and move the needle when it comes to the rise and fall of the economy. Large businesses tend to rely on the beat of world economics, while small businesses are much more tuned-in to the heartbeat of a local market—something valuable to those who are invested in the success of those local areas.
So with that said, what are the top Dallas startup companies to look out for? With so many to name, it can be tough to narrow down a list, but we've selected a few diverse companies to highlight and celebrate—companies that are innovating, growing, and embracing the entrepreneurial spirit.
Our Top 6 Startup Companies to Know in Dallas, TX
Lantern Pharma is looking to revolutionize cancer medicine and treatment in the United States by changing the way cancer drugs are developed. By a process they call "biomarker discovery," this biotech company tailors drug programs with promise to the right treatment candidates. Their "3R strategy" rescues, repositions, and revitalizes abandoned drugs while also targeting the placement of new drugs to ultimately reduce costs and timelines.
Gumroad embraces the modern creative by providing an all-in-one platform for creatives to sell their work and create an audience. Musicians, writers, artists, designers, game developers, filmmakers, crafters...you name it. Creative-types of all kinds come to Gumroad for a platform that both allows for individual sales transactions, subscriptions, pre-order services, and more.
Related Article: Small Business Spotlight the Best of Little Rock, AR
Robokind markets themselves as an "advanced social robotics" company, which sounds intimidating to the layperson. What this Dallas-based company does, however, has the potential to revolutionize education and the future of STEM careers.
What they do, primarily, is create cost-effective and inclusive education through robotics. Their two programs are Robots4Autism and Robots4STEM, both of which use computer programming learning and robotics technology. Robots4Autism is a therapeutic program that utilizes Milo, a socially advanced robot, to help ASD learners come out of their shell and advance socially.
Robots4STEM, on the other hand, is a visual programming language that is accessible to children who are seeking to learn and understand the fundamentals of computer science.
Even if you're not Dallas-savvy, you may be familiar with Foot Cardigan thanks to its appearance on the popular television show Shark Tank. Foot Cardigan is all about—you guessed it—socks. Not just any socks, but fun socks. What sets Foot Cardigan apart, however, is their subscription model. You can sign up and receive a pair of socks with a surprise design each month, which is a great gift option for the sock lover in your life.
Don't let the name fool you—Mediocre Laboratories is anything but. This e-commerce incubator is focused on running things smoothly behind-the-scenes for online retails: ensuring that the entire system from inventory to the online storefront is a pleasant and engaging experience. From flash sales to daily deals, Mediocre is not what their name implies—they're always hypothesizing and experimenting to see what works in the ever-evolving e-commerce space. For retailers big and small, Mediocre Laboratories is a much-needed startup.
Roomored
We can't complete our list without at least one entry that has to do with real estate. Roomored is a design platform that takes planning your next remodel or interior design project to the next level. Whether you're visualizing a new property, planning your next big furniture purchase, or just in need of some design savvy, Roomered wants to help. It's not just for homebuyers, either. Roomered is designed to help homebuyers make smarter purchase decisions, but it is also there to help builders and investors make the best decisions possible when designing, renovating, and furnishing or staging their properties, too.
This is just a small snapshot of the ingenuity and diversity of Dallas' many startups and small businesses. A growing and diverse economy is one of the many contributing factors to a stable market in the long-term, and one of the reasons we believe in Dallas as an investment market!
Want to learn more? It's simple.