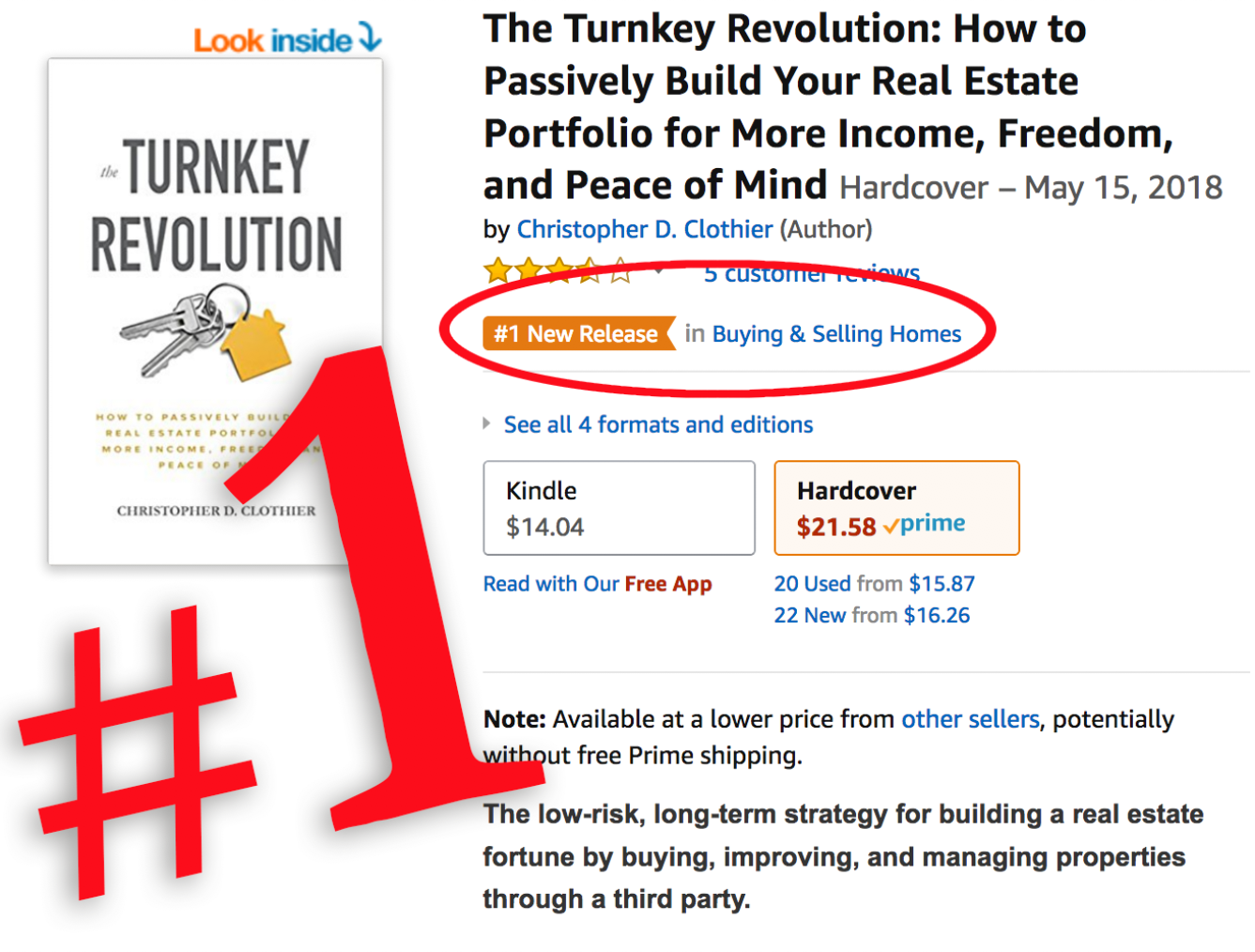 It has been a little over a month since my book, The Turnkey Revolution released and it's been quite a ride! In fact, last month it reached #9 on 800-CEO-READ's Business Bestsellers for May of 2018. It also hit #1 on Amazon's Hot New Releases List for Buying and Selling Homes. I'm thrilled with the success of the book, but even more excited for the readers who are now more educated about turnkey investing!

This book was a passion project that began as a collection of blog posts and notes, and has grown over time into something much bigger than I ever could have imagined.
I want to thank the thousands—and I do mean thousands—of real estate investors I have had the privilege of meeting and speaking with over the last 10 years. Those conversations, some of which I recount in The Turnkey Revolution, helped shape my ideas of what it means to serve others in business.
For real estate investors, this book is a HUGE resource if you're wanting to learn more about turnkey investing, how to choose the right house in the right market and planning your investments for long term returns. In fact, last month McGraw Hill hosted an interactive webinar where I was able to go into more detail about The Turnkey Revolution. This has been THE MOST attended webinar that McGraw Hill Business Blog has hosted to date! And I have you all to thank for it's success!

If you've already purchased your copy of The Turnkey Revolution, please be sure to share your thoughts and reviews on Amazon and Barnes & Noble. Because this is Memphis Invest's first book, peer reviews are so important, and I know that we can count on you to show your support and interest. My dad, Kent Clothier, and I have read the comments so far and hearing from fellow investors has been wonderful and insightful! I can't wait to read YOUR thoughts on the book!
Copies of The Turnkey Revolution are available from the following book sellers:
• Amazon
• Barnes & Noble
• 800-CEO-READ
• Get Your Signed Copy Here
Lastly, in the book I offer helpful tips and strategies successful turnkey investors have used to build their portfolios. Each chapter concludes with our Turnkey Safely Checklist™ and what I call Turnkey Mastery Tips—questions you want to consider to help safely plan your journey and chart your progress along the way.
With this checklist to guide me, I have a high level of confidence every time I decide to add a new turnkey property to my passive portfolio. Following a set of processes protects me and keeps me moving forward.
Here are some of MY answers to the Turnkey Safely™ Checklist. I hope they help guide you to making great decisions in building your turnkey portfolio!
Please remember to rate and review The Turnkey Revolution, I look forward to reading your comments!