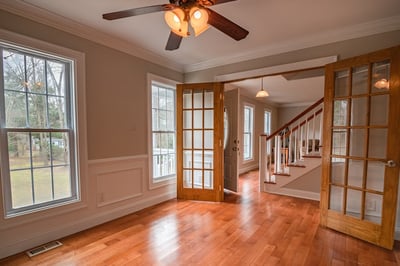 We all know that the real estate market moves in cycles. We're waiting for a market correction to take full effect and move us into more favorable conditions – but where exactly are we right now? And, more importantly, how did we get here?
Understanding market conditions – and anticipating the future – demand we know our history. So let's talk about it.
What Exactly Is Happening in Real Estate Right Now?
We've been keeping our fingers on the pulse of the real estate market. It's been both exciting and frustrating! As investors, you're undoubtedly aware of the pressures of the market – high property prices, tough interest rates, and a severe lack of inventory.
While we still expect the market to ease up and return to a more balanced baseline, we need to understand why it's the way it is and what will tip the balance.
Lack of Affordability
Our current real estate market is defined by unaffordability. Home prices spiked exponentially starting in 2020, with an all-time high quarterly gain of 18.5% in September 2021. Keep in mind that pre-2020, the highest spike in a decade was less than half that amount. Before the 2008 Housing Crisis, property prices increased by just over 10% quarterly.
So we're looking at unprecedented price growth that happened to come with the COVID-19 pandemic. That pandemic put the working world into a tailspin. Shutdowns and supply chain disruptions caused many to lose jobs or cut hours. Inflation took a toll soon after, eating into the value of American savings.
In normal circumstances, this would shrink buyer demand, and it did, but because supply remained consistently tight, it did little to temper rising prices. Neither did increasing interest rates, which only made homebuying more difficult.
The Lock-In Effect
Inventory is low for various reasons (some of which we'll talk about), but one market challenge is dubbed the lock-in effect. This is the phenomenon of people who would have otherwise put their home on the market for sale choosing not to because they would be incurring higher housing costs with the purchase of a new home due to high asking prices and interest rates.
The reluctance to sell due to more burdensome interest rates means that there's significantly less existing inventory on the market than expected. This further deters existing homeowners from pulling the trigger on moving!
How Did This Happen?
Arriving at today's state of the housing market didn't happen overnight. It wasn't caused by the pandemic, either. In fact, the pandemic only accelerated existing trends. It may have intensified their effects, but it can't be blamed for these conditions.
Let's go back in time.
In the Wake of the Great Recession
The Great Recession feels all at once far away and too close. Instead of focusing on what led to the housing bubble and the subsequent economic crisis, we must look at recovery.
Some U.S. housing markets, like Houston, TX, were more restrained leading up to the recession. As a result, they didn't fall as far and didn't have as much ground to make up. These types of markets are the ones that emerged on top after 2008 with more robust job opportunities and a more substantial housing market.
There are two primary factors to consider when discussing this period of rebound and recovery: investor activity and millennial inactivity. Real estate investors played a massive role in market recovery as they capitalized on the glut of foreclosures plaguing the market. This reinfused demand, which was sorely lacking.
However, this inventory excess didn't last long, as many homebuilders went under or dramatically scaled back their operations.
At the same time, the newest generation of homebuyers – millennials – delayed homebuying thanks to the financial burdens of the Great Recession and rising student debt. Some commentators blamed millennials for real estate's slow comeback. We've remained in a period of recovery and growth ever since.
By 2020, the real estate market had generally rebounded from the depths of the Great Recession, with home prices in many areas surpassing pre-recession levels. Millennials unleashed their pent-up housing demand on a market with woefully lacking inventory…and here we are!
What's the Takeaway?
No one can truly predict what the real estate market will do. Despite the relatively simple rules that guide it, so many nuances influence housing that it's impossible to account for them all. The human factor is always unpredictable!
That said, we will need one thing for the real estate market to truly rebalance: more inventory. This is why we're encouraged by trends like the build-to-rent model, which alleviates pressure on both supply and demand. But ultimately, supply will grow when homebuilders feel more confident that they can meet their profit margins at a greater variety of price points. We'll also see the lock-in effect dissipate when interest rates stabilize or shrink.
The best thing investors can do is remain attentive and diligent as they move forward and navigate ever-shifting market conditions.


With 20 years of experience under our belt, we know how to guide investors through market conditions.