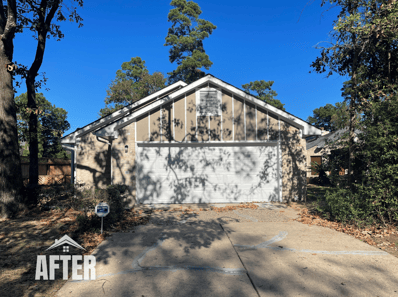 This week's Transformation Tuesday is from Houston, Texas.
The original state of the property was confusing to say the least, with multiple angles and overgrown landscaping that obfuscated the walkways and overall outdoor use. Inside, dated decorative features, including busy wallpaper and tile countertops, were overdue for a fresh start.
All of the this was no match for our expert team of renovators and local contractors, who employed a budget of $89,500 in its renovation. Outside, the wild greenery that kept the front and back doors a secret was cleared away. Inside, the eye-catching vaulted ceilings were highlighted in welcoming, neutral colors, and the old eyesores were replaced with clean, new surfaces. Now, we have a comfortable home for any resident!
This is one of three properties owned by an Illinois-based investor, all of which are managed by Premier Property Management Group.
The Lone Star State is at the epicenter of real estate investor interest. Houston — along with Dallas, Austin, and Ft. Worth — has been a major economic and investment hub for over a decade. We can help you get the facts about Houston's performance and investment potential. We're just a call away!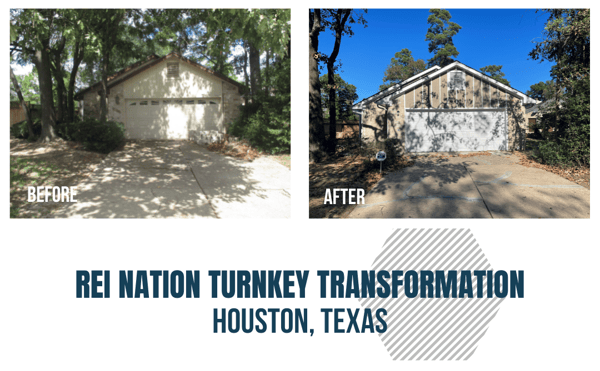 About this Transformation:
Built in 1981

1,587 sq. ft.

3 Bedrooms, 2 Bathrooms

Installed:

New Roof

New Doors

New Vinyl Flooring

New Light Fixtures

New Blinds throughout

New AC

New Water Heater

New

Furnace
Inside: Painted All Walls, Trims, Doors, Closets, Ceilings, and Cabinets

Outside: Updated Siding and Landscaping around the House

HVAC, Electrical and Plumbing Upgraded by a Licensed

Professional




Let REI Nation transform your financial future!