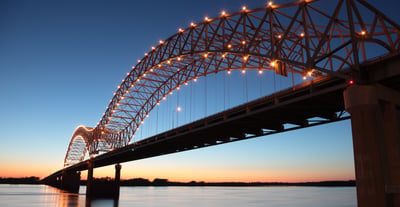 As turnkey real estate investors, there's often a temptation to be "hands off" when it comes to the markets you invest in. There is, however, something not only beneficial but special about actually getting to know the places where you invest.

Fifteen years ago, we started our business in Memphis, Tennessee. For us, it wasn't just about the affordability of the properties or the investment opportunities. It's home—a place full of vibrant culture and history. Memphis is a place that is growing and attracting millennials and young families, college students and new graduates, and bringing in opportunities, innovation, and world-class business ventures.

Watching Memphis thrive around us is a joy and a pleasure that we realize not all of our investors get to experience. So we want to pull back the curtain in the We ♥ Memphis series, starting with food and culture.
3 Things Investors Should Know About the Food and Culture in Memphis, Tennessee
Food in Memphis is world class.
While you may think of barbecue when you think of Memphis, it's not the only notable culinary offering to come from our city. Memphis is alive with all sorts of incredible dining experiences that bring excited foodies in from all over the country.

From casual eats like Hattie B's, which serves Nashville hot chicken (featured on the Netflix Original Series Ugly Delicious) and famous Central BBQ in Midtown to experimental offerings like Railgarten, an adult playground in Midtown featuring an ice cream parlor, upscale diner, and craft cocktail bar, among other fun activities. There's also Mama Gaia, a versatile and creative vegan and organic eatery, and Sweet Grass, a raw food bar by Chef Ryan Trimm where you can get oysters aplenty.

Memphis is a foodie dream with its rich offerings from every culinary style, region, and ethnic cuisine you could want—from Lucky Cat Ramen and the acai bowls and matcha lattes at City Silo Table + Pantry to the romantic Southern-Italian fusion at Catherine and Mary's. You can get classic French dining at Chez Philippe in the world-famous Peabody Hotel downtown, which has served the city with elegance for decades. Then there's the Andrew Michael Italian Kitchen, which dazzles diners with ambition, class, and detail. In 2013, they landed a spot on Food & Wine's Best New Chef list.

Needless to say, the food scene in Memphis is growing, varied, vibrant, and steeped in history. Restaurants have been in the city for decades and have a reputation there, while newcomers are making their mark. It makes Memphis an attractive place not only for travelers but for millennials looking to set down roots.

This growing culinary scene is just another indicator of the health of the Memphis economy and culture, and it's something everyone can enjoy.

Memphis is alive with culture.
You don't have to walk down Beale Street, visit a jazz club, or tour Sun Studios to know that Memphis appreciates the arts. In fact, the creativity of the city is one of the major players in the revitalization we've seen in the past several years—whether it comes out in the culinary arts or in attracting freelancers and artists to live and work in Memphis. The Urban Arts Commission has played a huge role in this initiative and, ultimately, their efforts have helped bring world-renowned film festivals and some of the best musical attractions in the country to Memphis.

The affordability of living in Memphis, too, makes it a great city for artists of all varieties to live, work, and thrive. This is a creative city—whether it's working in paint, music or the next big startup company.
Memphis is growing in the right direction.
Memphis consistently makes list after list for best livability—that is, the best conditions for work and play. Memphis also has a huge advantage in terms of affordability for cost of living and business owners alike. WalletHub actually ranked Memphis 7th on a list of best cities for entrepreneurs based on metrics of affordability, access to financing, five-year survival rate, and cost of office space.
Related Article: The Appeal Affordability of Memphis Real Estate
Because Tennessee does not have income taxes on salaries and wages but instead has a higher sales tax, this is where residents get a boost in the overall cost of living.

Just in the last decade or so we've seen explosive business growth in Memphis, from Bass Pro Shop to IKEA, One Beale to the Sears Crosstown project. Even the iconic Graceland has expanded to include an Elvis-inspired hotel, located steps away from Elvis's former home. There's so much economic development going on in the city, which for the investor, all points to big positives in terms of investment opportunities in Memphis.

Economic growth means population growth, which means investment opportunities. Big things are happening in Memphis—and knowing more of what this city has to offer only helps contextualize what you're really investing in.

There's a reason we started our business in Memphis. We love this city and believe in its potential not only as an investment but as a whole. We know Memphis is full of great people and opportunity!
Start a lasting relationship with a turnkey partner who invests in your success. We're waiting for your call!