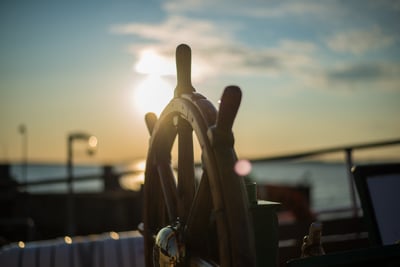 The tension between uncertainty and trust is one of the most impactful factors in the real estate investor's life. We're in a constant battle between the anxieties of the unknown, the management of risk, and the faith in the system that has built lasting wealth for so many before us.
We're in times of uncertainty now. Real estate investment — any type of investment — always carries with it a level of risk. It's only now, given the circumstances of the world, that that risk seems more pronounced. The world is changing and will unlikely return to the status quo we knew before.
This isn't necessarily a bad thing, but it is a new thing.
Even now, the "new normal" is creating a struggle for business owners, parents, and everyday working Americans.
However — even in this — we are staying the course. And we have good reason to.
Top Reasons Passive Real Estate Investors Should Stand Firm
History reveals a rhythm and order.
Buy-and-hold investors have history on their side. Time and time again, the method has been proven to work and yield great results. While a buy-and-hold strategy is not a sure thing (no strategy is!), it certainly works best in real estate investment. There are complications in a buy-and-hold strategy when it comes to stocks — it's not one-size-fits-all, and there are flaws and pitfalls to be considered.
However, where real estate is concerned, the results of passive investing are more reliable and predictable. As a physical asset, real estate carries with it more inherent value, more security, than stocks.
We know that everything — especially real estate — moves in cycles. Because we know how things move and flow in a general sense, we can have more confidence in the wait.
Buy-and-hold can afford to wait.
Speaking of the wait, one of the great advantages of our position as buy-and-hold investors is that we can wait. Waiting is a critical part of the strategy. This helps insulate our investments against temporal risks, such as market fluctuations and the economic cycle.
It's not as though buy-and-hold investors never sell — it's just that holding, particularly for those investing in single-family rentals — bears more long-term fruit than a single sale. This generation of passive income makes for an investment that creates both short-term and long-term benefits.
The issue with buy-and-hold in other sectors is a lack of this short-term income. Buy-and-hold stocks, for example, often pay dividends, but these amounts can be very small in the beginning of one's holding. Real estate investors reap the reward of rental income immediately.
Be sure to check out: The Real Advantages of Buy and Hold Investing
We can afford the wait, largely because we benefit from increasing passive income that expands with our portfolio. This allows investors to time selling as it suits their circumstances, if they choose to sell at all. As their portfolios expand, so does net worth!
We aren't beholden to speculation.
So much of investing can be speculative. Investors of all kinds look for the next big thing, the best new investment — be it the newest, hottest up-and-coming real estate market or the hottest stock projections. Thankfully, buy-and-hold investors don't buy into the hype and speculation. We don't have to!
While projecting values and cash flow carries a level of subjectivity, the hard facts of one's investments do not. So much of the buy-and-hold model is based on fundamental analysis — and we, as investors, can trust the numbers. We don't have to wonder, we can see for ourselves.
This is, in part, why we at REI Nation are diligent in reporting to our investors! We're not going on guesswork — we're relying on the numbers. Speculation can play a part in investing, but buy-and-hold investors don't need to. We're more concerned with the investments that are reliable, proven, and steady.
We don't try to capitalize on trends. Instead, our focus is on what we know we can trust.
We don't get wrapped up in the moment.
Emotions — both positive and negative — influence our investing decisions. This is particularly true of short-term investors of all kinds. They have to be much more cognizant of emotional influences. This can be as simple as listening to fear and acting on it, or getting caught up in hype and making a knee-jerk decision for fear of missing out or excitement without considering the facts.
Buy-and-hold investors are masters of patience. They know restraint. While this isn't to say we don't have feelings about our investments — we get excited and have our fair share of healthy anxieties — we learn how to manage them. Ultimately, because our strategy is more practiced, more slow-paced, and more passive, we are not often confronted with time-sensitive decision-making!
Emotions can create a big risk in investing. The well-tempered approach that buy-and-hold investing demands just further insulates us against risk.
We've been here before. Real estate investors always have a role to play. Don't let fear in the present dictate your financial future.
Stay in-the-know with all things passive real estate investment!