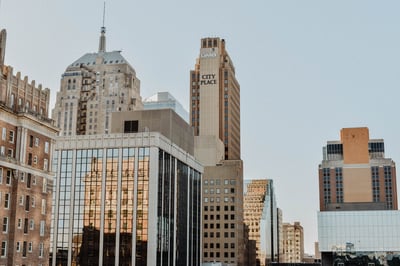 There's good news for Oklahoma City: the economic upswing has pulled the market up to new heights. With a $40.2 millions sales tax revenue for August, we're seeing renewed economic activity thanks to a local uptick.
According to reports, this is the 16th month in a row with positive growth in sales tax revenue for the city, pointing to increased economic activity and buyer confidence.
But what is behind this new sense of vigor in the Oklahoma City economic market and how is it affecting their real estate market? What can we expect coming down the line as real estate investors?
Here's what you need to know.
---
Order your copy of The Turnkey Revolution, the first book release from Memphis Invest chronicling the best advice on how to safely build a passive portfolio from real investor experiences!

Watch The Turnkey Revolution Webinar Here!

---
Causes and Consequences of Oklahoma City's Economic Upswing
Cause: A Boost for Oil & Gas
One of the bigger players in Oklahoma City's economy, the oil and gas industry, has played a large role in cultivating the current state of the market. With industry growth bringing in new job opportunities, it creates a ripple effect across other industries like manufacturing, trade, and transportation.
Just in May, Oklahoma City saw 200 new jobs added in the energy sector and the industry as a whole was up by 2%. There are 51,900 employees in the field directly and 30,100 employed by businesses that support the oil, gas, and energy industry.
Taking this into account in the context of Oklahoma City's economic success, we see that the growth of a titan of their industry and job creation creates consumer confidence and puts more money in the pockets of the consumer.
Cause: The Diversification of OKC's Economy
Naturally, a market's economy functions best when it has diversity. This prevents a market from collapsing when a larger industry fluctuates or itself goes under. When there are many industries at play, they can support the economy as a whole regardless of what happens with bigger players.
We see this playing out in a market like Houston, where for the longest time experts feared how various oil booms and busts would impact the hottest market in the nation. But the diversity of Houston's economy has made it effectively ironclad against the changes in the oil and gas industry. Where a few decades ago an oil bust would be curtains for the market, today they carry on.
The same can be said for OKC: with some of the nation's youngest entrepreneurs, innovation and economic diversity is the name of the game, and it is creating consumer confidence.
Consequence: Funding for MAPS Better Streets, Safer City
One of the big asks in Oklahoma City has been the improvement of city streets. The income earned from sales tax primarily funds essential city functions, such as the police force and fire department. It is the single most important source of revenue for the city.
One of the things that sales tax will help fund is the "Better Streets, Safer City" initiative approved earlier this year. Not only will this initiative focus on repaving streets for drivers, but working on bicycle infrastructure and recreational pathways.
Consequence: A Hot Commercial Sector
With the booming of industry in Oklahoma City comes an increase in demand for commercial real estate. Experts noted a robust price of $89 per square foot for an aging office space sold recently, which was impressive for that particular asset.
With business growth where it is in the city, it is of no surprise that the commercial sector is following suit.
Consequence: High Investor Interest
Commercial real estate is not the only area benefiting from the economic growth in OKC. Real estate investors are also taking note of the city's boom. Rising values for apartments caused many owners to sell, as there were 28 multi-family properties sold in the first half of 2018.
Investors are interested in Oklahoma City, and prices will soon eventually clime to reflect that interest. With such strong economic growth and a promising real estate market, one can't be surprised!
If you're interested in joining the excitement in Oklahoma City, schedule a call—we'd be happy to talk to you about the turnkey investment opportunities available to you in OKC.