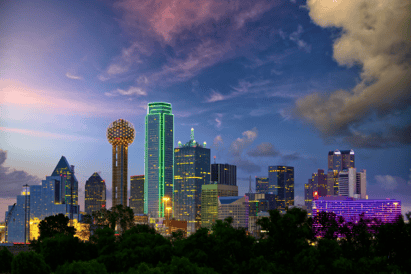 The Lone Star state is home to some of the nation's most vibrant economies and real estate markets. Houston, San Antonio, and Austin likely come to mind — along with Dallas! Dallas is the third-largest city in Texas, just behind Houston and San Antonio with an estimated 2020 population of 1,347,120.
That makes Dallas the ninth-largest city in the United States. When we talk about Dallas, we usually hear Dallas-Ft. Worth. The Dallas-Fort Worth Metroplex (officially designated as the Dallas–Fort Worth–Arlington statistical area) boasts a population exceeding 7.5 million.
That makes it the largest metropolitan statistical area not only in Texas but in the U.S. South. It is the fourth-largest in the country. Everything's bigger in Texas, indeed.
Not only does Dallas-Ft. Worth claim such a high population, but the Metroplex dominates population growth, too. In 2016, the Metroplex had the highest annual population growth rate in the entire United States.
There's a good reason for it, too: the economy!
Dallas-Fort Worth Economic Indicators
When we discuss real estate in any market, we have to talk about the economy. The economy holds it all together — promoting population growth or decline, determining income levels and growth, and ultimately, propelling real estate demand.
When the economy is healthy, the real estate market follows suit.
Because 2020 was an unprecedented year, we have to talk about the broader Dallas economy and its performance throughout the COVID-19 pandemic.
Major Players in the Dallas-Ft. Worth Economy
Like Houston, the Dallas-Ft. Worth Metroplex is home to a robust and diversified economy. No one sector dominates the market — rather, employment majorities are spread fairly evenly across industries.
Overall, the Metroplex has a workforce exceeding 3.7 million people, with 34.6% having at least a college degree. With over 870,000 employees in finance, management, architecture, computing, engineering, and the sciences, Dallas has the fourth-largest technology workforce in the country.
The diversity within the economy ensures economic tenacity and an ever-increasing pull of talent for employers to hire.
Share of Dallas-Ft. Worth Employment
Healthcare & Social Assistance (11.3%)
Retail Trade (10.8%)
Construction (9.9%)
Accommodation & Food Services (9.2%)
Professional, Scientific & Technical Services (8.4%)
Manufacturing (8%)
Administrative (6.8%)
Educational Services (6.7%)
Finance & Insurance (6.1%)
The average income in Dallas is $27,917 while the median is $43,359 — both slightly behind the U.S. average. With that said, the Dallas-Ft. Worth Metroplex has a larger share of earners making over $60,000 than the United States as a whole.
Dallas is an attractive place to do business, not only for its affordable land but the lack of personal income tax and a generally business-friendly environment. In fact, 48 Fortune 500 companies call Dallas home — the second-most in the nation.
Top Employers in Dallas-Ft. Worth (10,000+ Employees)
American Airlines
AT&T
Bank of America
Baylor Scott & White
HCA North Texas
JPMorgan Chase
Kroger
Lockheed Martin
Medical City
Naval Air Station
Texas Health Resources
Texas Instruments
U.S. Postal Service
UT Southwestern
Walmart
Dallas Population and Employment Growth
We see the strength of Dallas' economy when we look at statistics for both population and employment growth.
Dallas-Fort Worth Population Growth by Year

Year

Population

Growth Rate

2021

6,397,000

1.52%

2020

6,301,000

1.61%

2019

6,201,000

1.67%

2018

6,099,000

2.14%

2017

5,971,000

2.14%

2016

5,846,000

2.15%

2015

5,723,000

2.12%

2014

5,604,000

2.15%

2013

5,486,000

2.12%

2012

5,372,000

2.15%

2011

5,259,000

2.14%

2010

5,149,000

2.14%
[ via Macrotrends ]
Although 2020 presented challenges to employment (as it did across the United States and the world), Dallas fared relatively well with unemployment rates.
Unemployment peaked in April 2020 at 13.2% (in line with the national rate in the same month). In the months since, unemployment has dropped down to 6.4% as of April 2021, just slightly higher than the national rate of 6.1%.
In the past five years, outside of the pandemic, the Dallas unemployment rate ranged from a low of 3.1% to a high of 4.2%. For the most part, change in employment in Dallas-Ft. Worth has kept pace with national rates.
Despite pandemic unemployment spikes and waffling job growth, future projections are good. The job market is expected to grow by 45% over the next ten years, outpacing the national projection of 33.5%.
This is a hope well-embedded in the Metroplex, as population growth hasn't slowed a tic. When we look at net migration, we see that Dallas saw greater in-migration (both international and domestic) in 2020 than in 2018 or 2019. In fact, between July 2019 and July 2020, the Metroplex grew by some 120,000 people — the largest increase in U.S. metropolitan areas.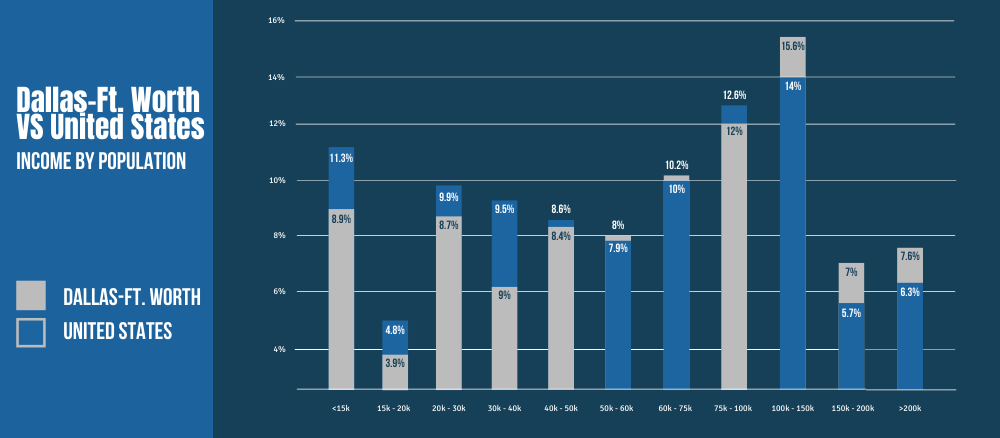 Thriving During a Global Pandemic
Texas has a history of exceeding expectations, whether it's weathering the Great Recession or powering through the pandemic era. Some say that Dallas not only survived the pandemic but thrived despite it. In many markets, downtown areas shrunk—not so in Dallas. With some 12,000 residents, the 40 buildings that were vacant twenty years ago are now occupied.
Dallas already had $11 billion invested in downtown revitalization underway. The strength of their position greatly helped when the pandemic struck. Dallas has a reputation for livability and quality of life, which helped keep the population from turning to other markets. The share of workers in tech-related fields and businesses that permitted remote work also helped keep the economy afloat despite unemployment challenges.
Of course, Dallas struggled in the same way as other markets. Retail, hospitality, travel, and tourism lagged during the pandemic. At the same time, just part of the Metroplex was responsible for over half of jobs created in Texas in May.
While the pandemic certainly left its mark in Dallas, the market has fared much, much better than other markets of similar sizes.
Dallas-Fort Worth Real Estate
Pre-Pandemic Statistics
As influential as the pandemic has been on the real estate market, it's important to contextualize the current market (in many ways, an anomaly, and in others, not) by examining pre-pandemic real estate trends.
The COVID-19 pandemic has been a wholly unique social and economic experience. While the pandemic accelerated many existing real estate trends, looking solely at the pandemic market does not give us a full picture of the real estate market.
Dallas Dodged the Great Recession
Like Houston, Dallas was largely able to avoid the Great Recession that devastated coastal markets and threw the nation into economic turmoil. Why is that?
Dallas (and Texas in general) has land-use policies that are more liberal than the states where the recession hit the hardest. This means that Texas was able to keep a lid on rising land prices where other, more limited markets saw skyrocketing values. Texas, in the meantime, was also able to keep up with demand through new construction (again, thanks to liberal land-use policies), and more affordably than other markets.
When the Great Recession hit, Dallas, Houston, and other Texas markets were not over-inflated. They didn't have far to fall, and, as a result, they were able to climb out of the recession much more quickly and with a much smaller impact.
Mortgage distress was less in Texas than in California and Florida (the state's primary "competitors"). Consequently, Texas saw greater GDP and economic growth in the wake of the recession. In many ways, it was a "safe haven" that spurred growth and demand in the years after.
Additionally, Dallas and other Texas markets were not plagued by the speculation that hurt other major cities. Flippers and speculation are drawn to markets with perceived scarcity. Because housing was not scarce in Texas, despite leading in population growth, the speculation turned elsewhere.
Is Avoiding the Bubble a Bad Thing?
One could argue that missing the bubble and its burst hurt Texas real estate. We would disagree. Although there were perhaps more opportunities to be found in terms of foreclosures and post-recession appreciation, this is only because markets most impacted fell a lot more drastically than Dallas.
Of course, they had a higher percentage of appreciation in the years after — they were recovering from a drop to rock bottom!
We see this in some statistics.
In the decade after the market crash, Dallas added $103 billion in home value. That's a lot, but not as much as other markets. Again, though, that data is somewhat skewed because the Dallas market did not collapse. They simply didn't have as big of a pit to climb out of.
"Lagging" behind other markets in this case isn't a bad thing. Not at all. If anything, it points to the Dallas real estate market as one of long-term stability and steady growth.
Historical Median Home Price Growth in Dallas
Real estate price growth has been astronomical in Dallas over the past year. Before we dive into pandemic metrics, let's look at median price appreciation as a whole. This will help us better gauge a norm as we move past the red-hot pandemic real estate market.
Redfin shows us how home prices have grown over the past five years.
| | | |
| --- | --- | --- |
| Month | Median Price | Year-Over-Year Change |
| January 2017 | $256,000 | +6.7% |
| January 2018 | $260,750 | +1.9% |
| January 2019 | $235,000 | -9.88% |
| January 2020 | $290,250 | +23.5% |
| January 2021 | $344,500 | +18.7% |
This is taking into account all listings. Zillow, on the other hand, provides us with a more focused analysis of the market by sampling only the middle price tier of homes.
When we look at property values at this tier alone, we see a steady upward trajectory, beginning at a Zillow Home Index Value of $160,000 in June of 2011 and peaking at $347,000 in May 2021.
Overall, the current (May 2021) median home price in Dallas is $420,000, up by 33.1% year-over-year. Home sales in May 2021 were up to over 1,400, a whopping 70.9% year-over-year increase.
The State of Dallas Housing Demand
As you might be able to discern from the numbers, the demand for housing in Dallas is sky-high right now. In May of 2020, there was 3.1 months' worth of inventory. In 2021, inventory was reduced to just 1.2 months. Despite the short inventory, home sales are skyrocketing along with appreciation.
Although the lag in homebuilding has largely contributed to price growth across the country, Texas is leading the country in housing permits with over 88,000 in the first four months of 2021. But still, the state struggles to keep up with wild housing demand.
The pandemic shifted priorities for a lot of people. We've already highlighted the high in-migration numbers for Dallas in 2020, and they point to some facts about the pandemic real estate priorities:
The Sun Belt is in high demand. The sunnier, warmer region of the United States, spanning the entire bottom half of the country, has attracted a growing population. The South has long been the fastest-growing region in the United States for multiple reasons. During the pandemic, one reason was the climate. The Sun Belt is known to be warmer and sunnier, with far more space for outdoor activities. The relatively lower population density combined with attractive and accessible outdoor spaces drove migration.


People want more bang for their buck. COVID-19 may have brought a flurry of activity to the real estate market, but it also caused a recession. This recession is still causing Americans to suffer, particularly for small business owners and those in lower-income jobs. With the spread of remote work culture, more people were able to choose where they wanted to live regardless of physical proximity to an office. They understandably chose more affordable markets. Although Dallas is slightly more costly than the U.S. median, it is more affordable than historically expensive coastal markets — even with rapidly growing housing prices. In Texas, buyers just get more for their money.


Affordability drives people to Southern markets. Affordability isn't just limited to housing. Although Dallas certainly has some housing affordability issues (as does much of the nation), the cost of living continues to attract people to the market. Typically speaking, southern and midwestern markets — areas that are more suburban and rural — are more affordable. Sprawling cities like Dallas and Houston allow people to access big-city amenities in more affordable, suburban settings.
An Affordability Obstacle
Despite Dallas' reputation, there is an issue of affordability. Despite the record number of housing permits in Texas, demand still far outpaces supply. It doesn't help that the cost of building materials, though dropping, has been astronomical. Delays in the construction sector haven't helped alleviate the issue, either.
Experts think that the only thing to stop the "runaway train" will be an increase in mortgage rates. We're already seeing, however, that low mortgage rates are less incentivizing when the market is as unaffordable as it is. Still, it may be what the market needs to pump the brakes on demand.
At the same time, the "gold rush" mentality in Dallas is expected to last for months, if not years. We're seeing, because of the price gains, that the average earner in Dallas is being priced out of the market.
What About the Dallas-Fort Worth Rental Market?
There is a stark contrast between the multifamily rental market and the single-family rental market in Dallas.
The pandemic drastically decreased demand for multifamily and apartment living, as residents increasingly favored more square footage and access to private outdoor spaces over cramped, meager apartments. Multifamily vacancies are at 8.4% in Dallas, higher than the national average.
At the same time, the single-family rental market can't be stopped! The Dallas Business Journal states that SFRs are even hotter than the traditional sales market. That's true not only in Dallas but in much of the nation, according to CoreLogic. Between increasing home prices and challenging lending standards, those being priced out of traditional homebuying are looking for the next best thing — a single-family rental.
In three of four tiers, CoreLogic reported an increase in SFR rent growth for:

Lower-middle priced (75% - 100% of the regional median): 3.4% (Feb 2021 YOY)
Higher-middle priced (100% - 125% of the regional median): 3.9% (Feb 2021 YOY)
Higher-priced (>125% than the regional median): 4.4%, (Feb 2021 YOY)
Dallas had year-over-year rent growth of 6.6% in February 2021, more than double the year-over-year growth rate of the previous year. The median single-family rental price in Dallas-Plano-Irving was $1,733 in January 2021. The median for a one-bedroom apartment is $1,318. Despite falling multifamily demand, prices are still rising. This could indicate trouble in the multifamily housing sector as we move forward.
Overall, a significant share of housing units in Dallas a renter-occupied. 43% of Dallas housing units are rented while 56% are owner-occupied. As home prices grow, the share of rentership is likely to grow more, particularly in the SFR sector.
A Word for Real Estate Investors
Dallas-Fort Worth is an undeniably exciting real estate market. With a long history of economic strength and diversity, robust housing demand, and stable growth, it's tough not to be attracted to this Texas titan.
Before you plunge into Dallas real estate, keep this in mind:
Never compromise on due diligence. This is a fiercely competitive market. To win the bid, many homebuyers are compromising on essential due diligence, like home inspections. They're blowing their budgets, too. As a real estate investor, you can't afford to do that. In real estate investment, maintain your high standards for properties. Know what you can afford and where your limits are. Yes, you may lose out on a few properties. But if they compromise your standards for excellence, they were going to be more trouble than they were worth.


Be patient. We can become anxious in our quest to capitalize on a real estate market. This leads to poor judgment. As you invest, be calculated and patient. Dallas is full of opportunities, but they may not come to you as easily as they did in a post-Great Recession world. Be patient enough to wait for the right property for your portfolio — not just any property.


You don't have to do it alone. Getting into a hot, high-demand real estate market can be exciting, but it can be discouraging and isolating, too. Don't feel as though you have to face it all on your own. Partners are waiting to help you find the right property for your portfolio in some of the nation's best markets at REI Nation. When you have a turnkey partner, you skip the headaches, the bidding wars, and the newbie investor mistakes.
Growth projections for Dallas are good. As the economy returns to a sense of normalcy, construction costs ease, and construction catches up, we're likely to see the break-neck pace of the real estate market ease. Still, with SFR demand as high as ever and Dallas remains one of the strongest economic markets in the nation, it's worth investing in right now.
You might be tempted to wait out the recession and the wild real estate market. Don't wait. There are opportunities to be found in every market climate for every investor. You just have to know where to look — with the right people by your side every step of the way.