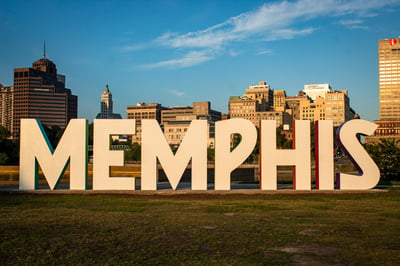 Memphis is our hometown. We started our real estate investment business here in 2003 and have only seen our number of investors grow. From the beginning, we have focused on bringing world-class single-family investment properties to our partners.

Though we now have opportunities across five states and seven markets, it all started in this humble Tennessee city. Many would ask — why Memphis?
Real estate investors tend to fixate on big fish in massive primary markets like New York City and San Francisco. There are glitz and glamour to be sure, but lasting, sustainable, and accessible real estate deals are hard to come by.
Our strategy targets investment markets with long-term potential and stability. One might not immediately associate these qualities with Memphis, but more and more we see how this Mid-south Market is growing and exceeding expectations.
These are just a few signs that Memphis, Tennessee is on a good path.
3 Factors Pointing to a Great Future for Memphis
Exceeding Economic Expectations
One of the best indicators of a worthwhile investment market is a strong local economy. While Memphis is not without its economic troubles, we've seen an upward trend in the past several years. Back in 2017 and going into 2018, Memphis' economic expansion was part of the larger conversation surrounding the market. Expansions at St. Jude, promising industry growth — particularly in the medical and technology sectors, along with small business growth — signaled an even-tempered but growing economy.
In 2020, that growth has only continued. St. Jude continues to work on their $7 billion expansion, the University of Memphis research park supports multiple tech startups and new businesses, and Shelby County, along with surrounding areas, have won some 85 economic development projects that ring in a worth of $4 billion in capital investment and represent 12,300 new jobs.
In Memphis proper, approximately 20 businesses invested over $883 million into the local economy and announced over 2,300 new jobs in 2019.
There's been major growth in the hospitality and tourism industries, too. $4 billion worth of it, in fact.
Overall, the city has seen a job market increase of 2.1 percent. Experts predict that job growth will increase by 36.6 percent over the next decade — higher than the national predicted job growth rate of 33.5 percent.
For real estate investors, this steady and stable upward trend bodes well for long-term investments.
A Look at Real Estate
But what about the state of real estate in Memphis? Zillow marks the Memphis market as being "very hot," as home values have gone up by 8.6 percent in the last year. The Memphis market has a projected 5.5 percent growth forecast for this year. That said, Memphis still remains one of the most affordable metro areas in the country — homes have a median value of $96,010. What about rent? The overall Memphis median rent is $942, while in the heart of the city it is $1,100. This demonstrates an overall upward trend in rental growth — in post-recession Memphis, the median rent was just $850.
Be sure to check out: The Memphis Market Strikes the Right Chord for Real Estate Investors
While prices fluctuate, we see a steady move up as rental demand grows. One big advantage in this market — particularly for buy-and-hold investors — is this slow-but-steady upward momentum and growing economic stability and diversity.
Building Upon Success
Part of what has created so much growth in Memphis over the past several years is due to the work of local government agencies and programs to foster a business-friendly environment. EDGE, the economic development agency for Memphis and Shelby county at-large, has worked (and succeeded) in bringing new businesses to the area on top of directing the city's many economic development projects.
Between an expanding commercial sector, revived and growing industries in technology, hospitality, and medical care, it's clear that local governing bodies want to see a better Memphis with each passing year.
We see this in the 2019 forming of the Memphis and Shelby County Regional Economic Alliance. This group has not only hired consultants to analyze the Memphis economy but aims to recommend and target industries for growth through economic incentives.
There is immense value in a proactive and well-rounded economic plan for real estate investors. What this demonstrates is that city officials and residents are investing in the success of their own market, now and for the future.
As we look to buy-and-hold real estate in Memphis, these ventures only demonstrate sheer market potential.
Begin your investment journey in the city we started in. Ask your advisor about opportunities in Memphis...or any of our seven world-class investment markets!