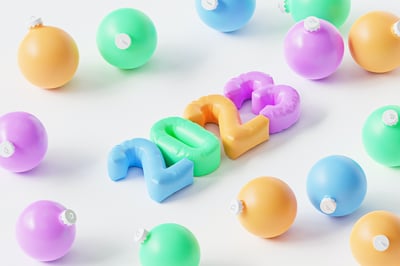 As 2023 begins, we find ourselves looking ahead to the future. What opportunities will this new year hold? How should investors adjust their strategies, if at all? The uncertainty of it all can be unnerving, particularly for inexperienced investors who may not have taken an active part in the real estate market at each stage.
The real estate market can be unpredictable, but that doesn't mean we can't look at the patterns and expert assessments to get an idea of where things are headed. Nothing is set in stone, so take these predictions with a healthy grain of salt. However, they've all been sourced from professionals across CNBC, Forbes, Redfin, and other reputable sources.
4 Big Real Estate Market Predictions for the New Year
Prediction #1 – Homebuilding efforts will slow
We've discussed some of the issues with the homebuilding industry throughout the pandemic. After all, between industry losses in the Great Recession to supply chain disruptions throughout the pandemic, new building efforts have lagged significantly. As a result, the real estate market has battled tight inventory for over a decade. This is one of the greatest contributing factors to elevated property prices.
Still, 2023 will likely continue to see a slide in homebuilding efforts. With the market turning to favor buyers, the construction sector will have a more challenging time meeting profit margins. This, in turn, will keep inventory restricted, which means home prices won't decline as much as they could.
Low inventory will keep the balance between supply and demand in check as demand shrinks.
Prediction #2 – Property prices will decline but not crash
We've already seen prices decline in markets across the U.S. In most cases, it hasn't been significant. We'd need to see 20-30% drops to qualify it as a market crash. Redfin predicts a drop of 4% to a median price of $368,000 in 2023. Although this would be the first year for a price decline in the housing market since 2012, it's not going to be drastic enough to be alarming.
Because the property listings will be slim, prices won't plummet as they could under different market circumstances. If anything, this is more of a market correction than a true loss.
Prediction #3 – Rental demand will remain robust
Interest rates are still expected to remain high in 2023, even though experts believe we'll close out 2023 with rates under 6%. Combined with economic challenges and only modestly reduced home prices, many millennials and Gen Z will continue to rent exclusively. Although rental rates may slow, we don't expect growth to stop.
Homebuilding in the rental sector is expected to decline, too (though not as much as in the traditional single-family market), and that will keep the market competitive. Investors that have positioned themselves in strong investment markets don't have much to worry about in terms of demand and revenue.
Prediction #4 – Home sales will drop
Redfin expects a significant portion of potential homebuyers to put a pause on house hunting. In fact, the expectation is that there will be 16% fewer sales in 2023 than in 2022. While inventory is a contributing factor – people can't buy properties if there's nothing out there to buy – the primary reason is an economic one. Mortgage rates have bolstered the ongoing costs of owning a home by hundreds, if not thousands, of dollars each month. Due to inflation and the looming recession, more people are reluctant to pull the trigger on a property.
Similarly, we're likely to see existing homebuyers stay put. They know the sellers' market is over and are waiting out the economic challenges. The recession, too, will make lenders more cautious. Stiffer lending standards will keep some homebuyers away.
What's the real takeaway?
With all these predictions in mind, what's a real estate investor to do? In the coming year, we'll continue to contend with low inventory. At the same time, slipping prices may create opportunities that we haven't seen since the pandemic-era housing frenzy.
Investors shouldn't count themselves out of the 2023 market. While there will be some new challenges, a focus on value, income generation, and resident retention will keep your real estate portfolio secure and on the right track.
Join thousands of investors building passive wealth through SFRs with REI Nation!