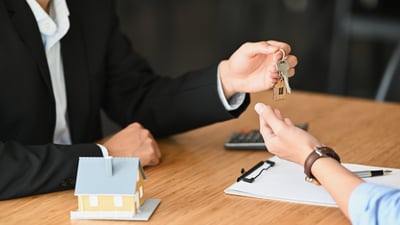 Although 23% of Americans believe that investing in real estate is the best way to build wealth – more than stocks, starting a business, or getting a side hustle – only 12% bought real estate in the last year.
What's the disconnect? For most, it comes down to cost. Investing in real estate with full ownership is a significant undertaking that demands more from investors than buying a stock. As a result, we've seen a lot of investors looking for a "happy medium" – investing in properties piecemeal with REITs and crowdfunding platforms.
But if you thought traditional real estate investors had a tough year in 2022, wait until you see the numbers for publicly traded REITs! The MCSI Index showed a 20% drop in 2022 – the worst showing for REITs since 2008, where values dropped by 38%.
Investing in REITs or crowdfunding platforms may be more accessible, but there are some big reasons to focus on turnkey investing instead.


5 Reasons to Consider Turnkey Over REITs for Your Next Investment
Reason #1: Turnkey investing has a lower sensitivity to interest rate fluctuations
Though mortgage rates impact SFR investors, as we've felt over the past year, the ups and downs of interest rates impact REITs in a more volatile way. They leverage debt just like regular real estate investors – only REITs offset the impact of interest rates by passing down the cost to their shareholders. While REIT values have dropped at the highest rate since the Great Recession, SFRs continue to see rental rate growth outpacing the pre-pandemic market.
Reason #2: You have control over fees and commissions
When you take part in a non-traded REIT, you're looking at some non-negotiable fees. You'll likely pay a commission or upfront fee on top of contributing to monthly management and upkeep of the properties you invest in. This can dwindle returns that are already split up between investors. While a turnkey SFR investor certainly will see a portion of their profits go to property management, you have control over who oversees your properties. You have more agency in where your money goes and whether the cost is worth your while!
Reason #3: Full ownership means full benefits
There's little practical difference in stocks and REITs. They both function in similar ways. The sticking point, of course, is that you, the investor, will never own a 100% share. You might not need a 100% share to see profits, but total ownership – over say, a real estate investment property – means that you fully reap the rewards offered to you.
Full rental profit. Full tax benefits. Full equity.
And perhaps most importantly, full control over how your investments are managed and cared for!
Reason #4: Residential real estate comes with less economic risk
REITs are almost always positioned in a real estate niche, many of which are in the CRE space: retail, healthcare, hospitality, offices, etc. While this does give investors some access to the CRE market (which is particularly cost-prohibitive), these asset classes were hit particularly hard during the pandemic. Residential REITs arguably fared worse.
Investing in turnkey properties doesn't remove market risk, but it does remove some variables that can impact investment performance – particularly those that you have no way to control or mitigate.
Reason #5: You build and diversify your portfolio on your terms
Because REIT investing costs less than buying a property by yourself, you can diversify your portfolio more quickly. However, property or share acquisitions alone won't build a world-class portfolio. Sure, there are advantages to leaving everything in the hands of someone else. Turnkey investors, however, enjoy a level of engagement you just can't get through an REIT.
You can focus on maximizing the performance and efficiency of what you already own rather than relying on the sheer scale to bring the most benefits. Individual investors can work to fine-tune their portfolio with their advisor, analyze every detail of performance, and make portfolio success a laser-targeted endeavor.


As with all types of investments, nothing is one-size-fits-all. There are always benefits to different investment strategies. They may fit your style or goals more effectively…and more power to you! But if you truly want to reap the full rewards of real estate investment, you must move beyond shareholding.
Ready to benefit from everything real estate investing has to offer?
Find out more from an REI Nation portfolio advisor!