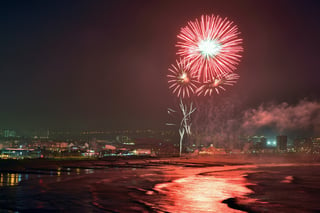 2016 is upon us. Another year under our belts! No matter what kind of year you had, good or bad, you can look upon another chapter with new eyes. A fresh start. The challenges you faced in 2015 can be overcome, and the successes can expand and grow. We don't know about you, but we're looking forward to 2016 in a big way.
That said, we know not everyone had a great year. Maybe you're feeling discouraged, be it in real estate investment, your career, or your private life. Those feelings are very real and it can be hard to look towards the future with optimism: but not impossible. You can rejuvenate your mind with wisdom from great men and women who know where true success lies.
Get reinvigorated by these inspiring quotes about success!
26 Inspiring Quotes to Jumpstart a Successful 2016
"Entrepreneurs average 3.8 failures before final success. What sets the successful ones apart is their amazing persistence." — Lisa M. Amos
"Setting goals is the first step in turning the invisible into the visible." — Tony Robbins
"Whenever you see a successful person, you only see the public glories, never the private sacrifices to reach them." — Vaibhav Shah
"Do you want to know who you are? Don't ask. Act! Action will delineate and define you." — Thomas Jefferson
"Human beings have an innate inner drive to be autonomous, self-determined, and connected to one another. And when that drive is liberated, people achieve more and live richer lives." — Daniel Pink
"Start where you are. Use what you have. Do what you can." — Arthur Ashe
"Twenty years from now you will be more disappointed by the things that you didn't do than by the ones you did do. So throw off the bowlines. Sail away from the safe harbor. Catch the trade winds in your sails. Explore. Dream. Discover." — Mark Twain
"Success is not final, failure is not fatal: it is the courage to continue that counts." ― Winston S. Churchill
"Have no fear of perfection - you'll never reach it." ― Salvador Dalí
"Our greatest glory is not in never falling, but in rising every time we fall." — Oliver Goldsmith
"It's not about having the right opportunities. It's about handling the opportunities right." — Mark Hunter
"Outstanding people have one thing in common: An absolute sense of mission." — Zig Ziglar
"Develop success from failures. Discouragement and failure are two of the surest stepping stones to success." ― Dale Carnegie
"It is hard to fail, but it is worse never to have tried to succeed." ― Theodore Roosevelt
"It had long since come to my attention that people of accomplishment rarely sat back and let things happen to them. They went out and happened to things." ― Leonardo da Vinci
"A man is a success if he gets up in the morning and gets to bed at night, and in between he does what he wants to do." ― Bob Dylan
"When you do what you fear most, then you can do anything." ― Stephen Richards
"Be of good cheer. Do not think of today's failures, but of the success that may come tomorrow. You have set yourselves a difficult task, but you will succeed if you persevere; and you will find a joy in overcoming obstacles. Remember, no effort that we make to attain something beautiful is ever lost." ― Helen Keller
"Always bear in mind that your own resolution to succeed is more important than any one thing." ― Abraham Lincoln
"It does not matter how slowly you go as long as you do not stop." ― Andy Warhol
"It is not enough that we do our best; sometimes we must do what is required." ― Winston S. Churchill
"A wise man will make more opportunities than he finds." ― Francis Bacon
"If you fell down yesterday, stand up today." ― H.G. Wells
"Courage does not always roar. Sometimes courage is the quiet voice at the end of the day saying, 'I will try again tomorrow." ― Mary Anne Radmacher
"Character consists of what you do on the third and fourth tries." ― James A. Michener
"The way to get started is to quit talking and begin doing. " ― Walt Disney Company
What quote or saying inspires you to keep moving forward? Share your favorites in the comments.