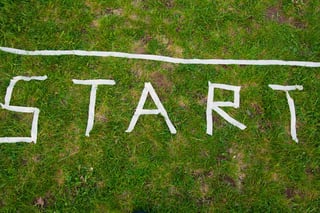 Ahhh. There's nothing like a shiny new year to reinvigorate the spirit! Even if your 2015 was less-than-satisfactory, now is the time to start the year off on the right foot. To dust yourself off, renew your resolve, and get sh...., umm, get stuff done! (Kerry Espuga would be frowning at me right now for using non-words like umm!)
If this is the year you've chosen to make the leap into real estate investment, great! If you're a brand new investor, you've got a lot of work to do. Some of the biggest mistakes you can make will be right here, in the beginning.
So whether you are experienced or new, there are some steps you can take right now to start your passive investment path on the right foot. We've got a few words of advice here and hope this helps you get going:
3 Crucial Points for New Real Estate Investors to Consider
1. You Need to Have a Solid Footing.
Guard Your Credit Score
Your financing method won't change the fact that real estate investors need to guard their credit score with everything. Your credit isn't too different from your reputation. It can keep doors open, or it can slam them shut in your face. So first things first, figure out where you stand! Get a copy of your credit score and look to see where you can improve it—pay down or eliminate your debts and streamline where possible. Avoid unnecessary risk and liability now and in the future.
Save, Budget and Save Some More
It is vitally important that you have a solid financial head start before you get into passive real estate investing. Unfortunately, for many investors just starting out and even some who find themselves stuck, they find a huge challenge can be funding. This is NOT something you can do - or would even want to do - with "No-Money-Down". This is not about getting rich quick and unfortunately it requires capital.
Be patient. Maybe you want to explore a partnership. Maybe you want to explore budgeting every month and saving for the next down payment. Maybe there is an end of the year bonus or a new bump in pay you can put toward investing. Bottom line: investing is not easy when it is made hard by the investor! Be real with yourself and prepare to build a portfolio. Don't spend your last dimes on investing only to find yourself stressed out and worried about the next bill! Save, budget and save some more until you have the financial backing to get started real estate investing the right way.
Don't Ditch Your Day Job
You hear success stories all the time of how so-and-so started investing in real estate, quit their job, and started traveling the world. And that's great! Those stories are inspiring—but that doesn't mean you should emulate them right off the bat. See, here's the thing: every real estate investor needs the means to get started. There's risk involved, and under the wrong circumstances, you could lose a lot of money.
So rather than chucking it all, remember that a good job can offer a great source of income to fuel your investments, support you or your family while you get started, and offer an avenue to deal with debts, develop a cushion, and make higher quality property renovations.
So if you're just starting out and have a job? Don't quit just yet. You need to time to get your footing first.
2. You Need a Detailed Plan.
Outline Your Goals
Every savvy investor has a plan. They know what they want out of their investments. Your plan isn't just a financial goal: It's planning how you want to grow your investments, diversify your portfolio, what kind of real estate investor you want to be, and more!
Before you start looking at real estate listings, step back and write down your goals for the long-term and in the short-term. Go do your research. See what's feasible for you right now and figure out where you want to end up.
Figure Out Your Financing
Now more than ever, real estate investors have access to creative financing. Of course, there's traditional bank lending. But there's also hard money, private money lenders, crowd funding, self-directed IRAs, and other ways besides. Before you decide, dive in and learn absolutely everything about your means of financing. The last thing you want to do is make a misstep in something that crucial. Get informed so you can not only make the best decision, but do it right the first time.
3. You Need a Good Network of Support.
Start Meeting People
Investors need a network of support. Developing one isn't always a pleasant experience. You have to meet a lot of people, and not everyone will be beneficial. It's hard, but necessary work to hunt down industry professionals: agents, contractors, property managers, private money lenders, and yes, even other real estate investors.
An easy way to get started? Browse LinkedIn. Look for a forum, Facebook group, or other professional network, online or out in your area.
Follow Blogs, Podcasts & Books
Other than building up your professional relationships, make a point to constantly look for ways to learn more. Pick up books. Listen to podcasts. Follow blogs! Maybe you even want to connect with a mentor. The important thing is to immerse yourself in all that the professional real estate investment world has to offer.
BONUS: Connect with a Trusted Turnkey Company
For new investors, the learning curve can be brutal. One of the best ways to start earning passive income while you learn is through turnkey real estate investment. Having a trusted company in your corner means you can lean on our expertise and extensive market knowledge.