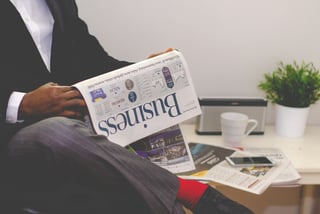 Success in real estate investment doesn't come overnight. Now matter how passive your income is, it never means you will reach your full potential as an investor if you let go of the reigns. It would be great if that was true, but even the most passive investments demand your attention in some way, even if it's not direct.
To fully reach your potential, it demands input on your part. While you don't have to put your hands directly into your real estate investments, you can start setting yourself up for greater success right now. No waiting.
6 Ways to Start Reaching Your Full Potential as an Investor
Get Networking
As the poet John Donne famously penned, "No man is an island."
You need people—from your property management team to contractors, realtors, lenders, other investors, and more. Building up those meaningful connections takes time, but each and every one begins with networking. Even if you don't end up face-to-face at parties and events as first (though keep your eyes peeled for these events), you can do something as simple as using LinkedIn to make connections both in your local market and in the ones you want to get involved in.
Online, send kind, genuine messages. In person, put your best foot forward and show real interest in them. Put yourself on their radar with a cordial, confident manner.
Nurture Those Connections
First impressions are great, but good professional relationships don't bloom without careful attention. Whether you're looking for a partnership or reliable services, carefully cultivating those relationships with real conversation—conversation that includes business talk, but also goes beyond it—means you build trust with them and for them. It's a win-win to identify and get to know good people to work with, especially in markets you want to get into.
Hone Your Personal Communication Skills
Never neglect the power of a little communications brush up. Step back and honestly examine yourself. Ask a close friend to evaluate your way of communicating. In professional and personal communication, everything matters: how you carry yourself, the strength of your handshake, eye contact, body language, tone of voice...the list goes on.
Consider the impression you make on other people: do you come off as arrogant and self-absorbed, timid and self-deprecating, positive or negative? Somewhere in between?
The first impressions you make are huge and can largely influence someone's decision to work with you immediately. Take the time to brush up on your charisma and manner. Practice makes perfect, builds your confidence, and ensure your first impressions are standout.
Build a Social Media Presence
We already mentioned LinkedIn, but there are other avenues for you to network, advertise, and draw in new opportunities through social media. Twitter is particularly valuable for investors, if only because you can easily follow and converse with some big names in the real estate industry.
Just remember, you're not an individual here—this is your personal brand you're going to be presenting. That means there's no room for ugly internet debates, lazy grammar, or unprofessional behavior. What you say on social media lasts.
There are also online communities to join, like the BiggerPockets network, where you can connect specifically with other real estate professionals and investors.
Guard Your Reputation
On that note, remember: do everything within your power to guard your reputation. Whether that's online or in person. That means keeping your cool when a deal gets heated. It means handling any given situation, no matter how frustrating, with grace under pressure. Your reputation is your most valuable asset and the hardest thing to salvage once it's been damaged.
Dedicate Yourself to Quality
In any real estate investment, keep quality in the front of your mind. If you want to truly excel as a real estate investor, it means you do more than get by on the bare minimum with cheap investment properties. Dedicating yourself to quality means you have investments you can be truly proud of. It means you have tenants who are happy to rent from you and regret it when they have to leave. It means other investors will value your insight and input.
Even if it costs you a little more, the value you earn is more than worth it in the long run!
Looking for quality rental properties that come with premier property management? We've got you covered.