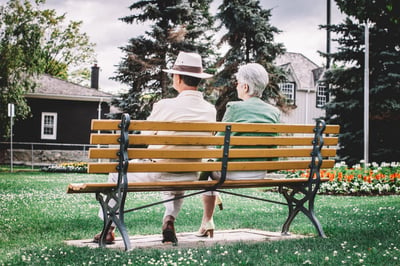 Why do you invest in real estate?
Because real estate is a high-return asset class and a hedge against inflation, many would say that they invest for retirement.
We're all after that level of financial freedom — one that allows us to tackle the unexpected without having to sweat and use our wealth to enjoy life on our own terms. Whether you're looking to make an early or sustainable retirement or to build wealth for your family, real estate has long been a part of the equation.
But is your real estate investment plan solid? Are you going to be prepared for retirement?
Here are the key signs of an air-tight investment plan.
4 Qualities in a Great Real Estate Investing Retirement Plan
It's generating passive income.
Perhaps the key quality in investing in anything for retirement is that it generates passive income. While we usually turn to stocks that pay dividends, real estate offers a way to generate cash flow while having total ownership (and the full equity) of the investment. An ideal retirement should not be a singular account with a high-dollar amount to dole out of the remaining years of your life.
The best retirement plans produce passive, reliable income. This way, you are not locked into a strict spending plan based on a slowly dwindling retirement account. If anything, you grow your wealth throughout your retirement rather than use it up — leaving room to endow your children and their children with financial benefits after you're gone.
Daily tasks are delegated.
When we retire, we want retirement to be relaxing. While plenty of us search for ways to keep ourselves busy after we retire, our activities should be born of desire, not an obligation. Too many real estate investment strategies are a drain on the owner's precious time. If you go into passive investing with the idea of going at it alone — being the landlord or sole contact for daily decision-making — you're going to find yourself with a full-time job on your hands. Other strategies, like flipping, are active and demanding not only of your time, but physical presence and ability.
Turnkey real estate investing, on the other hand, has the benefit of doing the heavy lifting for you. The markets and neighborhoods are vetted, the properties are renovated to a standard of excellence, and the managers know how to ensure your properties — and your profits — are up to your standards. At least, that's how we operate at REI Nation!
You have a buy-and-hold strategy.
Buy-and-hold real estate investments are those that owners intend to (you guessed it) hold for an extended period — typically anywhere between five and ten years, sometimes longer! Over time, you pay down your mortgage, equity grows, and passive income increases as debts decrease. You can sell the property when it makes sense — often when the market has greatly appreciated its value.
A buy-and-hold strategy benefits from patience. You don't have the pressures of timing the market or the stress of trying to sell. Instead, you benefit from cash flow while your property appreciates over the years — all contributed to lasting passive wealth. That's not even mentioning the tax benefits of owning rental properties!
Your portfolio is diversified.
No matter how you invest, diversification of one's portfolio is key to success. No investment comes risk-free — anything that claims to be without risk is almost certainly a scam! Part of the way we mitigate our risk is through diversification. For real estate investors, diversification can happen at several different levels: the market, the property type, and the properties themselves.
Given 2020 real estate trends, we've seen that residential real estate stands a cut above the rest. Commercial and vacation properties have taken a significant hit this year, where residential real estate (specifically, single-family rentals) have seen an increase in demand and growth. This, along with compelling historical trends and overall stability, are the reason that we believe in single-family real estate investing above other kinds.
Then there's the market: investors can reduce the risk that comes from local legislation, economic conditions, and natural disasters by spreading their investments across different markets.
At REI Nation, we carefully select our markets to ensure that they offer the best opportunities for our investors.
Rather than buying anywhere and everywhere, we hone in on the markets that have demonstrated both proven results and future potential for passive, buy-and-hold investors.
Build your retirement portfolio through turnkey real estate. Your REI Nation advisor is waiting for your call!