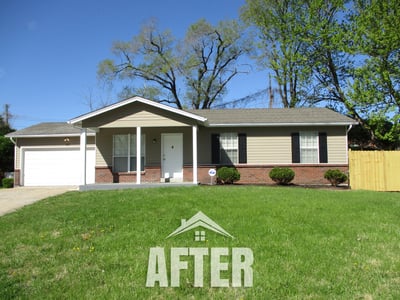 This week's Transformation Tuesday comes from St. Louis, Missouri! This single-family home was in need of some serious TLC. From the tattered roof to the ruined floors, our expert team of contractors had quite a bit to do to get this home into rent-ready conditions. To see how they got the job done, check out the before and after pictures below!
Maximizing a budget of $46,000, our expert team of contractors worked their way from the outside in. We started out by installing a new roof, building a new fence, and taking care of all of the property's landscaping needs. Next, we gave the outdated interiors a much needed facelift with new floors, fresh paint and trim, and new appliances.
For years now, St. Louis has met our criteria as a viable market for turnkey real estate investors. In the last decade, the city has embraced innovation and revitalized and reinvented itself in a post-recession era. With its job growth and diversity, it continues to be an excellent opportunity for investors to expand and diversify their portfolio.
Related Article: Memphis Invest Brings Turnkey Investors New Opportunities in St. Louis, Missouri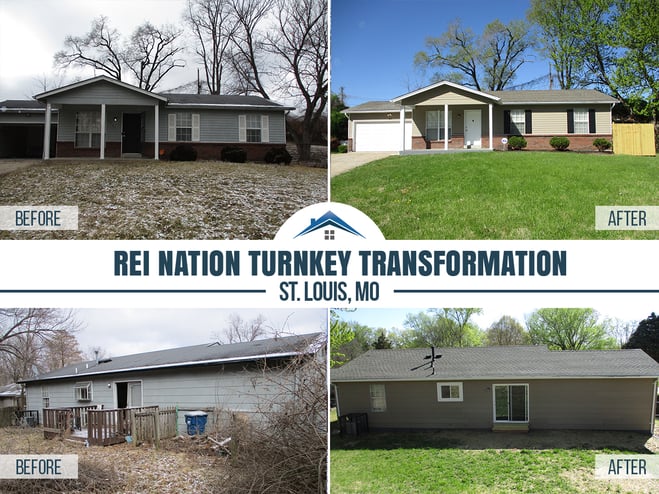 About this Transformation:
The owner of this Turnkey Transformation is located in California; this is their first property that they have invested in and had managed by us. Here is additional info about the home:

- Built in 1986
- 1,140 sq. ft.
- 3 bedrooms, 2 bathrooms
- Installed New Roof
- Installed New Fence
- Installed New AC
- Installed New Furnace
- Installed New Dishwasher
- Installed New Blinds Throughout
- Installed New Light Fixtures
- Installed New Countertops
- Installed New Hardware on Cabinets
- Installed New Carpet
- Installed New Vinyl Plank Flooring
- Replaced all damaged/rotten wood/trim/siding around house
- Painted all walls, trims, doors, closets, ceilings, and cabinets
- HVAC, Electrical and Plumbing inspected and repaired by a Licensed Professional


Let REI Nation transform your financial future!