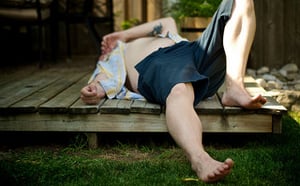 Summer isn't all fun and games. For many of us (especially in the Southern and Southwestern U.S.), summer can get unbearable. Heat, whether dry or humid, demands a conscious effort to wear sunscreen and stay hydrated.
People aren't the only things that can be damaged by sun, heat and humidity. Properties can also be worn down by harsh summer heat. Just like in winter, we have to be mindful of how temperatures can pose problems for our investment properties.
4 Steps to Protecting Your Investment Property from Summer
1. Mind the A/C
Air conditioning is a must-have in certain parts of the country. When heat gets unbearable, everyone wants to turn down the thermostat and comfort themselves with a cold drink. For real estate investors, the cost of keeping cool can really add up in summer months. Takes steps to mitigate the need to run the A/C non-stop. Have ceiling fans installed and add heavy blinds or curtains to the windows. They'll keep the temperature down overall and prevent the A/C from needing to cut on as often.
By the same token, mind that your property still has a good ventilation system in the attic and out through the roof. Otherwise, shingles could melt and warp and make the overall temperature more intense.
2. Keep an Eye on the Weather
Flooding is a big problem thanks to summer storms. Do you know how a deluge will affect your investment property? Some observations after a hard rain can help you or your manager identify where water tends to collect and if there are flooding problem. Standing water can also be damaging as a breeding ground for mosquitos. An inspection can identify flooding entry areas and other drainage issues that can pose problems for your property.
3. Take Care of Pests
When it gets hot, everything wants to get inside. We covered pests in another post, but do remember to have your tenants keep an eye out for signs of critters. Have them report any significant influx of mosquitoes, wasps or bees, while also being on the lookout for droppings and damage from mice and other rodents.
Remember that hanging bird feeders invites our feathered friends to curb the bug population in a safe way that doesn't involve chemicals. Being diligent in property maintenance also plays a huge factor in keeping pests away.
4. Take Measures to Prevent Mold
With summer humidity and heat comes the risk of mold. Mold can be notoriously difficult to get rid of. Your best option is prevention, and that comes in the form of an efficient ventilation system. Pay particular mind to bathroom ventilation — these smaller, frequently moist space are a prime spot for mold to grow. If left unchecked, a mold infestation is difficult and costly to remove.
Are you prepared to protect your investment property in any season? Share your tips in the comments.