While Memphis might not be the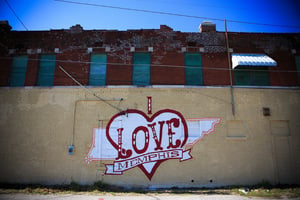 biggest fish out there for real estate investing according to most, it doesn't mean our great city doesn't hold its own. Exciting economic opportunities are opening up in Memphis thanks to blossoming commercial and retail sectors. This week, Dean Jernigan of Jernigan Capital announced plans to move the publicly traded companies corporate headquarters from Miami, FL. along with offices in Cleveland, OH. to the Poplar corridor in East Memphis. This makes the 13th publicly traded company to headquarter in Memphis.
This is great news for the business crowd in Memphis and made many stand up and cheer since Mr. Jernigan is no stranger to building huge companies in Memphis. Along with some impressive gains in the housing market announced this week it is hard to be more excited. While all markets have their ups-and-downs (Memphis real estate included), it's hard not to get excited when you hear about what the local economy is cooking up.
We know, of course, that Memphis was named of the best places for millennials to be — and our great city is well on her way to proving it. From the opening of the Bass Pro Shops megastore in the iconic Memphis Pyramid to IKEA's plan to plant a flag, the healthy and growing retail and commercial markets are playing a big part in the overall health of the economy: and in the performance of the real estate market.
3 Real Estate Trends Making Memphis a Hot Market
The Retail Rush is On
Retail in Memphis has been abuzz with activity for awhile now. Earlier this year, Bass Pro Shop opened their megastore in the Memphis Pyramid. It includes more than just shopping: there's also hotel accommodations, restaurants, a bowling alley and outdoor observation deck. Two months into their opening and Bass Pro Shop at the Pyramid has already attracted over a million visitors (they hit the mark on July 8th).
In addition, Nike completed a $301 million expansion to their Frayser distribution center, making Memphis home to the biggest Nike distribution center in the world. The expanded facility, opened in June, is 2.8 million square feet — the equivalent of 49 football fields. Nike has been a titan on the Memphis scene since 1982, and only continues to grow.
Still, new contenders are on the horizon for Memphis, too. The Swedish retail giant IKEA is finally moving forward to make good on all the rumors. In late June, IKEA formally filed for a $16 million dollar building permit for a store in Memphis. This will generate new jobs and bring in millions of visitors every year. IKEA projects to open this new location in Fall 2016.
Related Article: Customer Service Commitment Is A Sign of Excellence!
Commercial Real Estate is Booming
Big name retailers aren't the only ones doing well in Memphis. Commercial real estate as a whole is strong and experiencing high demand, low vacancies and fast absorption into the industrial market. Other surrounding economies are also feeding in to Memphis as they look to expand: namely, manufacturers in North Mississippi. As the regional economy grows, many are attracted to the idea of putting down roots in Memphis.
The combination of big-name players and a steady market overall is not only attracting visitors, but bringing in these new businesses that will continue to bolster the local economy.
Home Prices & Sales Are on the Rise
Residential real estate needs not feel jealous of its commercial cousin. Residential real estate in Memphis is hot. The Memphis Area Association of Realtors recently released their July market report, which pointed to some exciting numbers.
Year-over-year, Memphis saw a 12.6% increase in home sales in July: 1,685 in 2015 compared to 1,496 last year. July also out-performed last month's 1,663 sales (at a 1.3% increase), and beat year-to-date totals by 4.2% with 9,414 sales so far in 2015.
Sales aren't the only numbers on the rise: Memphis real estate prices are growing, too. While month-to-month fluctuation saw some dips in median home prices, the yearly medians still reflect overall growth: $125,255 so far in 2015, compared to 2014's $118,000. The minor month-to-month fluctuations also prove themselves to be harmless, as the sales volume in Memphis jumped from $1.38 billion in 2014 to $1.48 billion, year-to-date. That's a 7.2% increase, and certainly good news for the Memphis real estate market.
Twenty-two of Shelby county's 33 ZIP codes (Memphis is the main city in Shelby County) saw an increase in overall sales for the month, and 21 ZIP codes saw increases in average sales prices. Memphis is finally entering what has long been considered a normal market and that is great news for real estate investors who purchased during the recession.
Not only are their properties returning a profitable result each year (in most cases), now it is likely that the values of those holdings are rising as well. Most if not all Memphis Invest clients have purchased for the long-haul so trying to sell should not even be on the radar. It is times like these where smart real estate investors let the market move values up and let their properties continue to perform on an annual basis as they have been. Patience is what ultimately leads to profitability.
Memphis Real Estate Values Grow
This growth is modest in comparison to larger, accelerating markets, but they may just be a good thing. The fact that the residential real estate trend is to creep upwards indicates recovery while maintaining the affordability that attracts young professionals (and real estate investors!) to Memphis.
However, keep in mind that existing properties are much more affordable than new home builds due to a lack of space for construction and increasing building costs. Memphis Invest build roughly three dozen new houses each year for rent in highly desirable neighborhoods and those properties have attracted a lot of attention and demand from renters.
While the economy in Memphis is far from perfect, we're excited to see where it goes, investing along the way — not only in our properties, but in the city as a whole.
What real estate trend are you most excited about? Tell us how you feel in the comments.
image credit: Sean Davis