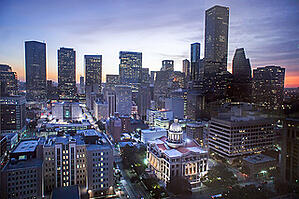 As investors, we always need to keep pace with the markets we have our hands in and have our eyes peeled for what's growing. Memphis Invest grew into the Dallas, TX market going on three years ago and that market has really taken off. Today we have an incredible team at Dallas Invest, which is simply a satellite office. A brand name if you will offering the same quality as Memphis and developing the same standards and culture as Memphis and the market is really responding well.
Lat year, we turned our eyes toward Houston, Texas as demand for more property from our clients continued to grow. We wanted to offer choice. But not just any choice...
We wanted to specialize in great markets and as we grew beyond Memphis and Dallas, Houston was at the top of our list. It's pretty easy to see that Houston is dominating the real estate market. It's competitive, fast and in high demand all around. Investors are turning their eyes to many Texas cities to grow their portfolio, including Dallas-Fort Worth and Austin, but Houston is arguably the crown jewel.
We started our third brand in Houston Invest and recently hired two GREAT team members to continue building out our office and team. We have a great office location and great team and we really love the Houston market. The projections for Houston's real estate market are very, very good.
Lawrence Yun, chief economist for the National Association of Realtors, expects strong home sales and rising prices in thanks to demand. Many real estate experts see Houston running circles around all other real estate markets in 2015.
Investors need to start paying attention to what's going down in Houston.
4 Things to Anticipate in Houston Real Estate in 2015
It's going to be number one.
All predictions are pointing to Houston. The National Association of Realtors predicts Houston to remain in the forefront of real estate markets in 2015 with continued growth and stability. Interest rates are remaining low and inventory, also low, will keep the market away from a bubble. The brisk pace of Houston real estate that we've seen in 2014 will only continue next year. Hold on to your hats — it's going to be competitive.
Construction volume will blow everyone else out of the water.
In order to keep pace with demand, construction has to happen in Houston. Builders are keeping up as much as they can, but a labor shortage, combined with other factors, has prevented them from doing so. Inventory in Houston is low, even as new homes are being constructed around the clock. At the same time, new home builds are far high above the rate for other major cities.
Be on the lookout for us to build new houses in both the Houston and Dallas markets in the near future. Our new builds in Memphis are performing excellent and that has given us and investors confidence to build and buy in the Texas markets as well.
Downtown will bustle.
While Houston has typically been known for suburban growth, the tides will be shifting in favor of downtown in 2015. While the urban areas of the city once struggled to thrive, it's rapidly becoming a hot spot for business — which means the demand for urban housing will rise.
The local economy is booming.
Jobs, jobs, jobs. They're bringing people to Houston. Not only is Houston known for its powerhouse position in the energy industry, but it's bustling with activity in the technology, health care and alternative energy sectors. The strong job market and bustling economy has only continued to attract more business and more people to the area — setting up solid demand all around.
Would you like to download a free video on Mistakes to Avoid In Real Estate? We recorded a 25 minute video full of great detail! Grab a pen and pad and hit the button below. You will find great info. and data to help you get started!
Do you think Houston's at the top of the market? Share your predictions with us in the comments.