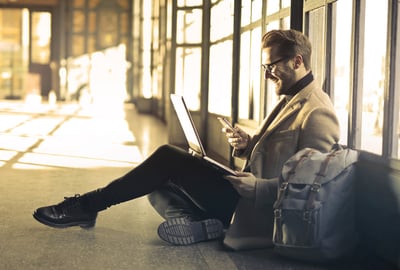 One of the best things you can do for your financial future as a young person is invest. Investing, however, can seem like a daunting prospect. Doesn't it take a lot of money? Don't you have to know a lot of stuff about finance, strategy, and how not to mess up a delicate system?
Investing in your twenties can seem like a lofty and out-of-reach goal, but taking advantage of those precious extra years of compounded interest, passive income, and portfolio growth can make all the difference in the world. That head start can have a significant impact on your retirement.
But is investing in real estate in your twenties even possible?
Yes. It absolutely is. But if there's one thing it takes, it's a determination to make it happen. Here are top tips to get you on the right path to investment success as early as possible.
5 Tips to Successful Real Estate Investing in Your Twenties
Learn what you're really getting into.
The first thing every young, fresh-faced real estate investor should do is learn as much about investing in real estate as they can. This in itself is a gargantuan task: real estate investment is an expansive topic. So where should you start? First, identify the kinds of real estate that interest you. For first-time investors, residential real estate is typically where you want to be: it's the easiest to manage, the tenants tend to stay longer, and the barrier to entry is a lot lower.
Once you hone in on the type of properties you want to invest in, consider your method. Fix and flip, buy-and-hold, active or passive? These are just some common variations among many. Start subscribing to real estate blogs, seeking out other investors who started in their 20s, and picking up books on investing in real estate and managing your finances. These will help lay a solid foundation.
Need some reading recommendations? We have you covered.
You can even go so far as to seek out a mentor or investing group to begin networking. BiggerPockets, for example, is a vast network of investors and real estate professionals full of experience and wisdom—and it's right at your fingertips.
Prioritize saving.
One thing you'll need in order to invest is capital. Now, there are certain strategies you could employ to decrease the amount of capital you may need, such as taking advantage of private money lenders, partnerships, or certain government programs, but ultimately, you will still need money.
In your twenties, when you likely have no family or spouse to support and no mortgage to pay, is the best time to save money. While student loans and the cost of living can make this challenging, making sacrifices in order to save a designated percentage of your pay will be worthwhile in the long run.
Lenders recognize the value of a disciplined individual with a strong savings account. Beyond simply saving for the upfront cost of your first investment property, you will want to keep some capital aside as a "cushion" for any eventualities and expenses that may come up, especially in the beginning.
Consider the long-term impact of your decisions.
When you're young, you tend to think more in the moment. The long-term consequences of our actions and decisions of don't sink in. As a result, instant gratification is much more important than planning for outcomes down the road. For a potential investing career, this has to change—it's all about outcomes in the future, particularly in a buy-and-hold strategy.
In your twenties, you must stop yourself from impulsive actions and instead think about your financial future. Consider the worthiness of every purchase, every credit decision, and every job and financial opportunity. Think with strategy in mind. Envision where you want to be, not just how you want to live in the now.
Be intentional about your credit history.
Your credit score can open doors or slam them shut when it comes to investing. As most investors, particularly those just starting out, rely on lending to acquire their investment properties, it is critical to not only build good credit, but to maintain it and intentionally craft it. How does one do this?
First and foremost: pay off debt. The student loans that you may have hanging on your back not only impact your credit score, but they can also hinder your ability to save money. You want to optimize your debt-to-income ratio.
Secondly, avoid credit card debt. While you want a credit card to build credit, you don't want to use it when you don't need to. In fact, use it sparingly. Pay it off immediately and don't let a balance sit on your account. Pay any and all bills on time, if not early. Protect your credit by checking in on your history regularly and seeing if mistakes have been made—you can ask for them to be removed.
Taking these steps to protect your credit can open many doors in your investment career, especially early on.
Take baby steps.
Lastly, take baby steps. We all want financial freedom and heaps of disposable income from our real estate investments as soon as we start. But as new investors, we have to maintain a realistic picture of what to expect from our journey. You can't begin expecting to get rich quick, nor can you jump in and scale to a multi-property portfolio right from the beginning.
Start small, and be okay with starting small. It's okay to get your feet wet before you jump into the deep end. Getting in over your head leads to mistakes and discouragement. Instead, take only what you can manage, learning little by little, so that you can grow at a pace you're comfortable with.
Naturally, we suggest passive real estate investing through Memphis Invest. With our over 15 years of experience, you can lean on our expertise in growing rental markets nationwide. We'll help tailor your portfolio to your vision of financial freedom.
Get started—join the Turnkey Revolution to learn what it takes to succeed as a passive real estate investor.