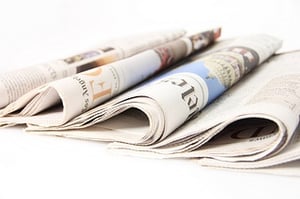 Whether it's current news or advice for real estate investors, we're bringing you a list of some of this week's must-read articles from business and real estate investment blogs across the web. Sit down, grab a mug of your favorite beverage and brush up on your reading.
4 Real Estate Articles to Read This Week
Yes, we know. Even the word taxes tends to make one's eyes glaze over, but that doesn't mean they aren't important to talk about, especially for investors. There may be changes in the works for Section 1031 and EB-5 Visa, which would have a national impact. For Section 1031, which "allows sellers to delay recognition of a normally taxable gain, which lets investors and developers rely less on leverage and make more efficient use of their cash," there may be upcoming restrictions placed on these exchanges.
EB-5 Visa, on the other hand, deals with the offering of permanent residency for foreign investors who meet certain requirements — a much criticized program for a lack of supervision and vulnerability to fraud (according to its opponents, anyway). With the growing question of the role and impact of foreign investors in the states, it's one to keep an eye on.
From the quality BiggerPockets blog, another article full of useful, strategic advice. Now, internal controls, like taxes, sound boring. But wisely using internal controls can not only streamline your processes, mitigate risk and keep you organized, but allow you to best serve your customers and partners. Even if you won't leave this article as expert, the principles therein are good to familiarize yourself with.
The goal of many real estate investors is to build up a hefty savings account for retirement. It's a great goal to have, but not all investors are maximizing their potential savings. Paula Pant (whose blog we've recommended before) lays out The One Percent Challenge, a helpful strategy for investors looking to save more or those just starting out without limited resources.
So many of the real estate deals that are lucrative for investors happen very quickly and without much hoopla. How do these investors finds buyers so quickly and make a killing? Easy: a buyer's list. Simply put, it's a list of other real estate investors actively seeking out new investment opportunities. In the first part of this article, Seth Williams presents an overview of the value of a buyer's list and how to start building one up.
Which article did you learn something from? Share your thoughts with us in the comments.