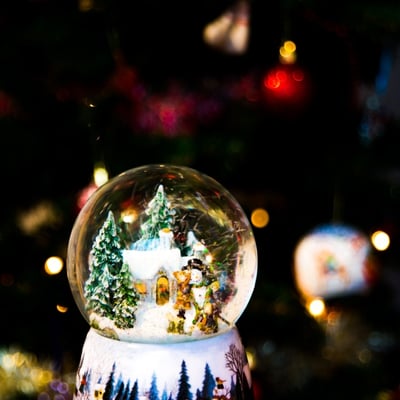 The holidays are great. It's the time of year where we cozy up, break out the cocoa, and spend time with friends, family, and plenty of good food. As real estate investors, however, we tend to neglect one important thing about the holiday season: it's a great time to get ahead. The fourth quarter of any year tends to drag when it comes to real estate.
It's not exactly a motivator to get out and work on your investments when, frankly, Christmas cookies are calling your name.
But the holidays are no reason to slack! This is prime time to earn big. Don't miss out on a great opportunity. These are four reasons the home stretch is a great time for investors to jump in and add a property or two to their portfolio—and why paying attention to your investment portfolio is worth it right now.
5 Reasons to Pay Attention to Your Real Estate Investments During the Holidays
Slow real estate market.
During the wintertime, a few things happen across the country nearly universally. The only places you won't see this are where it stays warm year-round. The cold comes, it gets dreary, trees are stripped or their leaves and properties just don't look as nice. Everything loses its curb appeal. As a result, realtors are less eager to show properties, no one wants to go out and look at properties, and the real estate biz as a whole just hits the brakes.
Just because people slow down on buying, however, doesn't mean that people stop needing to sell. During the holidays, you will find competition decreases while the chance of finding a deal increases.
Eager sellers.
Not only will you be contesting less with other buyers, but you're going to likely be working with more flexible sellers. It's the holidays. No one wants to be dealing with a long, drawn-out selling and moving process over the holidays. They want to get it over with. This time of year especially is when investors will find themselves with sellers more willing to negotiate and be flexible with terms. You might find better deals!
When it comes to sellers, you always want to find out why they want to sell and work towards a mutually beneficial arrangement. If you can help them close quickly, they're going to be a lot more likely to work with you for a deal on the price, especially this time of year. The more leverage you can have with a seller, the better.
Tax benefits for this year.
One of the major benefits of acquiring one last property this year is the tax benefit. If you close before the end of the year, you'll be able to include it on your taxes this upcoming May. If not, you'll have to wait until the next year to reap the tax benefits (pending changing laws).
Look at the year in review.
Beyond buying properties (because let's be honest, the timing isn't always right for every investor), the fourth quarter is prime time to look back on the year and refocus your investment strategies. With a new year coming up, this is the time when most real estate experts begin speculating about the upcoming year. Speculation, however, is limited in its helpfulness.
Instead, you can look back at the past year: analyzing your successes, failures, and progress. Look at the real estate markets you're in, the markets you're thinking about joining. See how they performed throughout the year and evaluate them against your ideal benchmarks.
It's time to look at numbers and get the full picture from the past year.
Look ahead.
After you've armed yourself with the analysis from the year, you can really make a game plan for the next. Plenty of people jump into making new year's resolutions without being adequately informed. Granted, you don't need to be informed to make most resolutions, but you sure do when it comes to real estate investments!
Once you have the data from the year past, you can more accurately and realistically map your goals for next year. You'll know what markets you want to target, what cash flow goals make sense for you, and where you want to improve upon your current properties.
Here are some more tips for investors to get motivated during the holidays and to end the year on the right foot.
Keep your momentum going and finish strong. Make sure you're getting the latest from Memphis Invest!