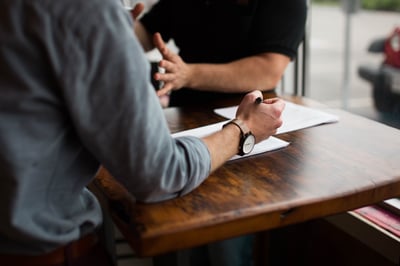 Financing can be tricky to navigate in real estate investment. For the most part, your average real estate investor won't be paying for their properties in cash—at least, not in the very beginning. And with limits on the number of mortgages you can take out, there have to be alternative real estate investor financing options, right?
That's where an investor may benefit from a private money lender. These loans come from (you guessed it) private sources who fund your real estate deals with upfront
financin
g on very specific terms. These loans usually have a tight payback period that can range from a mere six months to a year. While it can be risky, they're also quick and clean.
That said, there can be a lot of risk associated with private money—it's crucial that real estate investors know when they should turn to this alternative method of financing and when they do, what criteria should guide them as they search out a lender.
These are our top tips for navigating private money lending.
Signs You Should Look Into Private Financing
You have four or more properties financed through a bank.
While Fannie Mae guidelines technically say that investors should be allowed financing for up to 10 properties and there are ways to obtain financing for more, the vast majority of banks won't finance more than four investment properties simply because of the risk involved. Because of this, it may be wise for investors who have reached this point to turn to private sources to finance their next acquisition.
While you may eventually find a bank willing to finance your investments, the time and energy spent may not be worth the lost deals that could have been made in the meantime.
Your credit isn't stellar.
Obviously, poor credit scores can be an obstacle towards obtaining financing through traditional means. While you work on improving your credit score, it may be wise to employ a private lender. You simply aren't shackled by traditional credit guidelines and regulations when it comes to these loans. There's no looking at your credit, no proving your income, and no immovable requirements.
Instead, you can sit down with your lender and negotiate the terms that make the most sense for the situation that you're in right now. You have more options with a private lender simply because they're usually more flexible and willing to work with an investor where there are fewer upfront requirements. This is perhaps the biggest advantage to using a private money lender.
You need fast financing.
The agility of private money can't be understated. We all know how exhausting the process of getting approved for a bank loan can be. When you need to close on a real estate deal or when you're simply eager to get going it can be frustrating at best and costly at worst to wait for a bank's approval. Private loans, on the other hand, tend to be more agile.
Though the interest rates are much higher (we're talking as 12% here), investors can get out of a pinch with fast financing in potentially much larger amounts.
4 Criteria for Vetting Private Money Lenders
As with anything in real estate investment, due diligence is essential for success. When it comes to your financial decisions, this is especially true. The terms of your financing are binding and must be carefully considered. Because they can be so varied and outside the norm, it's crucial that investors pay close attention and hold their lenders to the highest standards.
Agility—You want a lender that understands that you, as a real estate investor, need financing in a timely and efficient manner. As a result, they are quick to respond to you and communicate clearly.
Forthrightness—Is your lender upfront with you? Do they try to bury terms in jargon? You want a lender that makes certain that you understand all of the terms of the loan in a mutually beneficial agreement—not a lender who is trying to take advantage of you. Beware of a lender who keeps you out of the loop or tries to obscure details.
Lawfulness—This one should be a given, but it's worth noting. Before you work with a private money lender, take the time to brush up on your state's local laws on loan origination. There are likely rules and regulations that must be followed and you need to ensure that your lender is doing just that.
Mutual Interest—While not totally necessary, it's always good to have a lender who is actually interested, experienced in, and invested in the same things you are. Does your lender frequently lend to other real estate investors? Can other investors vouch for their lending practices? What can you expect from them? Are they approaching you more like a partner investor or strictly as a lender? These are good things to keep in mind.
Private money lenders can be enormously beneficial to real estate investors in the right circumstances. If you are diligent in your research and treat your lender like a true partner in your investment, you will find yourself poised for success.
Aim to pay your loan back far ahead of time and manage your risk well and it may be a great option for you in fueling your investment career.
If you're looking for more real estate investor financing options, check out a related post where we highlight 6 alternative sources for real estate investing.

Subscribe to our blog to learn more every week about investing in real estate.