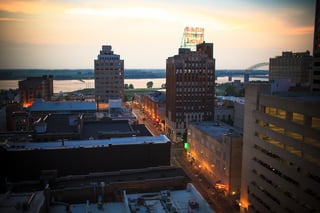 Many of our investors are investing out-of-state. They don't call Memphis home, but they know that this place has something great to offer. Before really drilling down into the other six incredible characteristics that make Memphis such a unique city, let me add one that rarely makes too many lists.
The Memphis Invest & Premier Property Management teams!
This is an extraordinary group of men and women who do an outstanding job every day managing an incredibly large portfolio. They are a tremendous factor in the success of over 1,600 real estate investors investing their hard earned incomes and retirement accounts into investment real estate. This team is second to none in the country and they are an extremely unique value for real estate investors and this city alike!
Now, onto the amazing things that Memphis has to offer. And boy, does Memphis have some amazing things going for it! Every city has problems, sure: we're not trying to romanticize. But at the end of the day, we can't help but love Memphis.
If you've ever considered investing here, visiting, or even moving to Memphis, let us tell you a few of the things that make Memphis so incredible.
6 Things That Makes Memphis Incredible
Modern Music Has Memphis Roots
Just about everyone knows that Memphis has close ties to music. Everyone knows about Elvis. Memphis is known as the "Birthplace of Rock n' Roll," thanks to Elvis, who started his recording career at Memphis' own Sun Studios. The relationship Memphis has with music, though, goes a lot deeper than The King. He, along with other musical pioneers, developed some of what became modern music: they were revolutionaries!
Memphis is also home to the blues. "Father of the Blues" W. C. Handy wrote and performed his music at Beale Street. His first composition was naturally The Memphis Blues (1912) and he solidified Beale Street's musical reputation in Beale Street Blues (1916).
Memphis' musical legacy continues today, most notably on Beale Street, where live performances and jazz clubs abound. And let's not forget the famous Beale Street Music Festival!
Big Industries are Booming
Memphis has always been a place of industry, but things have especially boomed in the past few years. As one of the largest wholesale and distribution centers in the South, Memphis is no stranger to trade. Since the end of World War II, Memphis has been a hub for industry: more recently home to Nike's largest distribution center, the largest Bass Pro Shop in the world, and soon-to-be home for an IKEA store.
Commercial real estate and business in general is on the upswing in Memphis: with an influx of millennial entrepreneurs and professionals, Memphis has a promising, growing economic future. It's affordable cost of living combined with growing economic opportunities only makes it a better place to be.
The #1 Zoo in the United States!
That's right. The Memphis Zoo is arguably the best in the entire United States. That's cool enough on its own (who doesn't love a trip to the zoo?), but Memphis as a whole is big on nature: we have a wildlife sanctuary, two state parks, the Memphis Botanical Gardens, and even a Japanese garden. And let's not forget Mudd Island and the Mississippi River herself!
Memphis-Style Barbecue
On the list of reasons people love the South, food will inevitably be included. Memphis-style barbecue is one of four predominant regional styles of barbecuing in the United States (the others being Texas, Carolina, and Kansas City). Memphis barbecue focuses on the taste and quality of the meat: slow-cooked in a pit with dry rubbed spices and seasonings.
Food is more than food here: it's an art and a tradition. Something we share, love, and treasure. It honestly and genuinely brings us together, and that's pretty cool (and tasty)!
Plus, you can't forget the The World Championship Barbecue Cooking Contest during Memphis in May.
A Rich History
Every city has history, but in few places can you see it so clearly. Memphis is a juxtaposition of days gone by, with older architecture and iconic, beautiful historical buildings. We have the National Civil Rights Museum at the Lorraine Motel, where Dr. Martin Luther King, Jr., was tragically assassinated in 1968. The museum was the first of its kind and documents the history of the civil rights movement from colonial times to the present.
History is woven into everything here: not just in museums. It's in our music, our food, our places, and our people. Some good, some bad, but all adding to the richness of the city.
The People
In may sound a little corny, but out of everything in Memphis, we have to say we love the people the most. There's nothing like Southern hospitality and the friendliness of neighbors. We love that our families are here. We love that we live in a place that is full of smiles and waves and a 'Hi, how're you doing?' on the street. The people make Memphis what it is.
At the end of the day, we're just happy to be in Memphis—and we're proud to give real estate investors from all over the chance to have a little piece of this great city.
Would you like to learn more about this fantastic city and the team that makes it the #1 market for long-term investing?