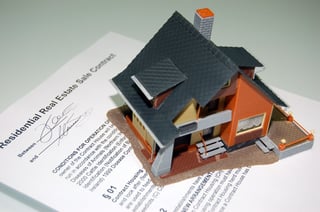 Real estate investor's aren't always buying. Even as a buy-and-hold investor, sometimes, you want to sell. Maybe a property isn't working out for you, maybe your goals are changing. Maybe you just want to streamline your portfolio. Either way, there will come times—especially with many markets seeing returning and accelerating home values, when it becomes tempting to sell. But should you?
Consider This BEFORE You Sell Your Investment Property
When values are on the upswing and you own a coveted property in a seller's market, there's certainly the temptation there to capitalize on your property's appreciation. You may think you'll never have an opportunity like this again, and the instant income you'd get from a sale is the best choice for your investments.
So ask ask yourself:
Does Short-Term Gratification Outweigh Long-term Passive Income?
First and foremost, consider your investment goals. What are you looking for? You aren't a bad buy-and-hold investor if you sell a property. It's not about holding all the properties, it's about holding the right properties for you.
That said, beware of jumping to sell when prices look nice: it can be easy to be dazzled by a large sum, but how does it compare to your stream of positive cash flow? What's going to serve your goals best in the long run? A big, short-term cash boost to fuel your other investments, or the steady, reliable stream of rental income?
The Case for Holding
You're Still Earning Passive Income
No matter how big the price tag for your investment property gets, remember: it's not your house. You're already earning money on your property, and that passive income, over the long-term, can outweigh earnings on a sale.
Rental Prices are Rising
While home values are on the upswing again, so are rental prices. The surging demand for rental properties is only accelerating rent costs—and for the most part, that's good news for investors. Not only do you have the opportunity to earn that passive income, but earn more of it. Upward movement of rents is one of the best reasons to hold a property for long-term. The return on original investment rises without you as an owner having to do anything!
This Isn't Your Only Chance
Buy-and-hold rests on the idea that your investments will withstand the ebb and flow of the market. Unlike stocks, real estate has the benefit of generating income. Your financial success doesn't hinge on the property's appreciation. It just doesn't: and that's because you have that cash flow. You may think you're missing out of the chance of the lifetime by not selling now...but you're not.
If you truly want to sell, you'll have other chances down the line—and, in the meantime, you'll still be bringing in passive income. Selling or not selling a property in this one time frame isn't going to make or break your investments.
The Case for Selling
The Property No Longer Fits Your Strategy
Sometimes a property just doesn't work out for you anymore. Maybe your interests are in a new location. Maybe you want to start investing in real estate in a different way. Sometimes, the puzzle piece just doesn't fit—and that's fine! If a property is taking up too much of your time and energy to deal with because it's become an outlier, then it may be better to sell. Allow yourself to cut and streamline when you need to. Don't hold on for the sake of holding on if your property is exhausting you.
The Property Isn't Performing Up to Par
Not all properties are going to rest at the peak of performance all the time. It's just fact. You'll have highs and lows and unexpected costs and longer turnover periods than you'd like. If a property is a drain on your resources or your cash flow has turned sour for an extended period, sell. If you can't handle the cost of upkeep anymore, sell.
Of course, a strong consideration when deciding to sell a property is what can you get quickly on the market? Often, properties that are held as investment property are sold as investment property and that can effect the pricing. We would all love to get top dollar for a property, but top dollar often requires extra work. If you do not want to do that work, then an investor is going to want a discount. Even when Memphis Invest, arguably the largest buyer in Memphis and one of the largest in Dallas, buys properties, we always want to purchase at a discount.
Even when a property may bot be performing at its peak, it still may be better to keep it and allow it to get back to peak performance rather than sell.
Things Can Change Quickly
While buy and hold does say that investments will whether the highs and lows of the market, that doesn't mean you should hold onto your property to the grave. Markets can change quickly. We may see another hit to the housing market in the years to come, even if in the distant future.
As a real estate investor, the question should less be should I sell and more why would I want to sell? Examine your strategy. Does selling now align with your goals? Does it help you achieve more? Or will holding do that, too? Only you can answer those questions for yourself. If you map out the why with sound reasoning and calculations, you most likely to come to the conclusion that long-term investments are just that...long-term. They are not meant to be sold at the first opportunity and often have a greater upside over time than the one-time upside of selling.
-------------------------------
Want to learn more about investing with our company?