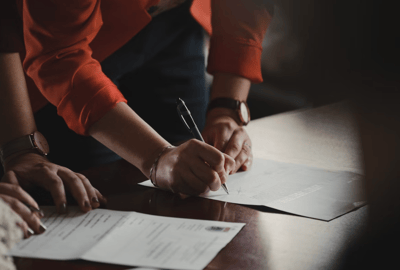 Buying investment properties is a process. If you've ever purchased a home with bank lending, you know just how it is – a complex process of sending, signing, and receiving documents. Then there's the appraisal, closing, and everything happening behind the scenes.
Even though the buyer isn't the one getting the mortgage details nailed down, investors can hold themselves back from securing financing in a smooth, timely manner. In the investment world, time is money, and you can't afford to waste either!
Here are seven tips that should help you secure your next loan without a hitch.
Speed Up Your Mortgage Financing with These Key Steps
1. Use the right lending partner
Lending partners aren't created equal. While there are some advantages to working with local lenders over national ones, there are drawbacks, too. They may be more personable and accommodating but may not have the same level of services or lending capacity.
Ultimately, though, the size of the lender isn't the sticking point: it's their experience with investors. Some lenders are wary of lending to individuals with one or more existing mortgages. While there are rules regarding lending limits for investment purposes, there's no reason for a lender to turn their nose up to a reputable investor.
Oftentimes, a turnkey partner will be able to recommend a preferred lending partner. That alone will make the process simpler, as an established relationship and industry experience go a long, long way!
2. Document your income
Unfortunately, many people don't think about establishing a detailed paper trail until they need to provide documentation. If you're not in the habit of keeping track of pay stubs, invoices, or copies of checks received, you're going to want to start. Lenders require proof of income, and certain documents are better "proof" than others. It's not enough to just have bank statements.
Keep pay stubs, checks, and relevant receipts in two places – one physical and in an organized file, and one digital file with scans.
You'll also want to keep track of documents related to investment income, dividends, and accounts.
3. Keep tax records on hand
Lenders usually want to see at least two years of tax returns. Obviously, for auditing reasons, you want to keep your tax returns around for a good long while. So, you probably have them saved already. But it's not just about your tax return!
Keep copies of tax documents like W-2s, 1099-MISCs, 1099-S, or any other documents that detail income and liabilities.
4. Stay on top of your credit score
A credit score is lending 101, but it's always worth mentioning. Your credit score is one of the first things lenders look at – it's a snapshot of your finances and a picture of your creditworthiness. It also impacts the interest rate you can secure! Part of maintaining a credit score involves utilizing credit.
It's not enough to have taken out a car loan ten years ago. Investors must take an active role in building up a credit history and a reputable score. While conventional wisdom tells us to avoid debt, it's also a necessary tool to secure trust from lenders.
5. Prepare to put more money down
Putting more money down won't necessarily make the mortgage lending process go faster, but it does give investors a distinct advantage. Utilize your leverage wisely – don't take on too much debt. Putting more money down reduces your monthly payment, avoids mortgage insurance, and keeps your DTI ratio in check. When your debt is balanced and under control, lenders will be more willing to take a chance on a client with multiple mortgages.
6. Keep channels of communication open
Your mortgage agent is there to help. You can make the process faster simply by communicating! Call when you have a question or need clarification. Keep a close eye on your e-mails or mortgage portals. You're going to be in a flurry of communication: people constantly ask you for things, tell you things, and outline the next steps. You don't want to cause a hang-up because you missed one email, call, or important detail in the fine print.
7. Get (and stay) organized
Investors are going to make a higher volume of real estate transactions than the Average Joe. Make it easy on yourself – keep a running and regularly updated file of pertinent lending documentation. It'll make the entire process less of a headache, especially as you repeat it for subsequent mortgages. Keep track of everything associated with your real estate acquisitions, from offers and lending to closing disclosures and documents.
At REI Nation, we've streamlined the process from property acquisition to earning passive income. Learn how YOU can make real estate investing work for you!