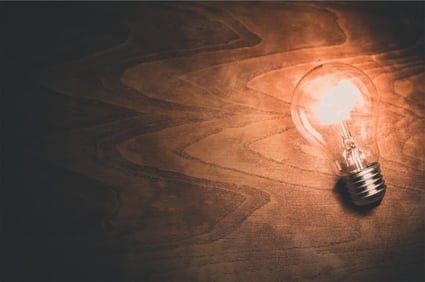 To say that many real estate investors are unprepared when they get started is an understatement. Far too many people rely on filling their heads with hypotheticals and booksmarts—which is absolutely a good thing to do—but they forget to take the practical steps that put them in the best possible position from the very beginning.
Real estate investment is a little bit like playing chess. You can't capture the queen and win the game without setting up the board to make the right moves. It takes careful calculation to get there!
You can have all the head knowledge in the world of how real estate investment should work, but unless you do the work of getting there, no matter how passive you think you are, you're never going to find the degree of success you want.
The bad news? Action can be scary. Being definitive? Scary. It's taking a leap, sometimes into the unknown. The good, though, is that it's all for forward momentum. When you cast off the fear of making mistakes and move from theory to practice, you're going to get the experience that turns you from a real estate investment novice into a seasoned expert.
If you're ready to invest, these are the steps you need to take right now to ensure you have a solid footing.
8 Steps to Securing a Firm Footing in Real Estate Investment
1. Sort out your financial situation.
Dealing with bad credit? How about debt? If you're in a sticky financial situation that would make securing a bank loan more difficult, you'll want to start resolving that particular issue before you dive deep into investing in real estate. It will become a perpetual thorn in your side otherwise, if not a roadblock to starting in the first place. Your financial reputation (your credit) is one of your most valuable assets in this business. Protect it, and keep it in good shape!
2. Soak up knowledge.
Remember those book smarts we mentioned? They're extremely important, especially to put into practice. Start soaking up information. Read, read, read. Learn from the greats. Memorize the time-tested, proven principles that guide our craft. Look to the mathematics we use when vetting an investment property's profit potential. Never stop, no matter how many years you spend in real estate investment.
3. Start making connections.
Start connecting with other real estate investors and real estate professionals, both in your market and beyond it. Look both to real-life meetups and online communities like BiggerPockets. Having a community and a network means you can leverage experience, partnerships, perspectives, and sometimes, money. You never know when a connection may be valuable.
4. Narrow your focus.
There are so many ways to invest in real estate that it's impossible to name them all. The best thing you can do for yourself is to narrow your focus and find your niche. As they say—the jack of all trades is the master of none. If you want to be a great, you've got to have focus. Hone in on what you really love and dedicate your energy to it.
5. Seek out a mentor.
Mentors can be enormously helpful. When there are hundreds of voices out there telling you how to invest and trying to dispense advice, it can be beneficial to decide who you're going to listen to and whose footsteps and philosophy you're going to follow. It will keep your strategies from getting mixed and muddled. It could be as simple as sticking more to a particular author's philosophies when you read, rather than a meet-once-a-week-for-coffee mentorship—but if you can find a real-life mentor to meet with, it could be enormously beneficial!
6. Expand your investigation.
Don't settle for the first investment property you find. Do some searching. We can almost guarantee that first isn't going to be best. Before you buy a property, investigate all of your available options. Look not only at available properties, but the surrounding values and rental market as well.
7. Hire a property manager.
One of the biggest mistakes new real estate investors make is trying to bear the burden of property management themselves. Land lording is hard work! Instead, hire someone who knows how to do it right. Good property management is one of your most valuable assets. Don't neglect the worth of an excellent manager.
8. Prepare to handle costs.
Remember: no investment property will be perfect. From time to time, there will be unpleasant surprises on top of your regular monthly costs. You should prepare to deal with that! Remember too, there are things you may not consider that factor into your costs, like accounting, pest control, landscaping, homeowners association fees, and other miscellaneous costs. As long as you're educated on all of these expenses and prepared to cover them, you'll be fine.
Remember, the most important thing you can do for your real estate investment future is to simple be realistic. It's not a get-rich-quick situation. If that's what you're expecting, you're going to be disappointed!
That said, with the proper due diligence, you can set yourself up for financial success in real estate investment. All it takes is a little hard work and dedication.
If you want to make investing in real estate as simple and hands off as possible, consider partnering with a turnkey investment company like Memphis Invest. Leverage our decades of expertise and market knowledge and take advantage of turnkey properties in some of the best markets in the country!