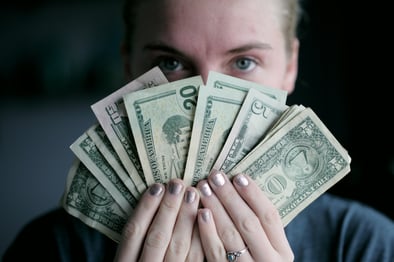 We've all heard it said before: cash flow is king. For real estate investors, the quest to maximize and protect our cash flow is never ending. We're always on the hunt for the best avenues to get the most out of our investments while making sure we've done everything in our power to protect what we already have.
However, we often confuse cash flow for our only revenue stream and forget that what we really need to protect is our investment income. That can come in many forms and smart investors never take their eye off the big picture. They never sacrifice their over-all income for a smaller piece of the pie called cash flow.
For newer real estate investors it can take time to learn these lessons. Experience is the best teacher, but it's not always good to lose time and money in order to learn. That's why we've compiled these tips for real estate investors on how they can protect their investment income!
Take these tips to heart to avoid a lot of heartache.
6 Easy Ways to Protect Your Real Estate Investment Income
Prioritize Customer Service
If you've been investing in real estate for any length of time, you know that one of the most valuable components to maximizing your income potential is resident retention. If you want to retain tenants, one of the best ways to do so is by prioritizing customer service. As an owner, you may not have much to do with the actual customer (tenant). What you do have to do with, however, is hiring the people who do.
Are you aligning yourself with the right property management teams? The right maintenance services and contractors? You're looking for people who will provide your residents with efficient, responsive services to their reasonable requests.
Ideally, your property will provide them with comfortable and desirable living conditions that make them want to stay. If they are happy, they'll do just that. Beyond just keeping conditions tip-top, it also involves keeping interactions pleasant. Are your managers kind and accommodating? Easy to get a hold of and communicate with? Does your manager contact your residents after a service call to make sure they are satisfied.
Make no mistake...these are not traditional behaviors of property management companies. These are the types of behaviors that the best of the best have put in place as their standard mode of operation. It takes an understanding of the small details that actually lead to happy and satisfied residents that will stay in a property for multiple years. These are things to consider.
Promote Your Property Before You Need To
A mistake often made by owners and managers alike is failing to promote a rental property until a vacancy needs to be filled. You don't have to wait until the lease is up before you start promoting your property! Residents will often start searching for another residence long before they need to move, so why not advertise before you need one, too? You can start screening and lining up your next resident as soon as you know your current resident won't be renewing their lease.
The shorter you can keep your turnover time, the better.
Keep Existing Residents Happy
Another mistake that is often made by real estate investors is a failure to understand the value of an existing resident. A happy resident who is satisfied with the service they are receiving and the attitude of their property manager toward the property, will often stay for multiple years.
At Premier Property Management, the management company for all Memphis Invest properties in each city, we only use two year leases. It is quite common for a resident to sign more than one new lease on a property. The average length of stay today is over 5 years and is a major reason our investors enjoy a relatively stress-free experience. Are there move-outs and vacancies? Of course. But they are relatively few and far between considering the close to 5,000 properties under management.
Those lease extensions are great opportunities to increase the rental amount on a property, which though usually small, add up over time to increase a properties income.
Don't Be Soft on Nonpayment
There's a temptation every real estate investor has to be lenient on non-payments from residents. Sure, circumstances can be tough sometimes. We all want to be compassionate. But listen: this is your financial future. You can't afford to be soft on a resident who doesn't pay their rent each month. A late payment is one thing. Even a resident that consistently pays on the same day each month, but may be after the initial day rent is due, is very different from a resident who does not pay at all!
Don't be soft. Don't give chance after chance. If you want to keep your income going strong, you can't afford to. This may be more in your manager's hands, but make sure they know that you won't tolerate a resident who does not pay rent.
Place a Premium on Quality Residents
One of a real estate investor's best assurances of steady investment income is a quality resident. The best way to guarantee a quality resident (as much as one can) is through tough, consistent screening standards. This isn't just about their credit score. What's more important is looking at past evictions, criminal activity, and other, bigger financial mishaps. These are what you want to look for. Quality residents are key—they are the ones that pay on time and take care to preserve your property like they would a home they own.
Related Article: What's Threatening the Value of Your Investment Property?
Value a Trusted & Skilled Manager
It was mentioned before when we discussed customer service, but your property manager is crucial to maintaining and maximizing your income potential. It's not enough that your manager is a people person and skilled at answering resident requests and handling rent. A quality manager is never an individual. Not in today's investment world. A quality manager is a full-on team.
They have to be up on local laws. You need to be able to trust them to handle a variety of tough situations: evictions, conflicts, breach of contract, communication, risk mitigation, damages, and any number of stresses. Do you trust that you've hired the best management team to deal with any and every possible resident and property situation that could be thrown their way?
As an owner, and especially as a passive real estate investor, that's not something you should have to sweat!
If you want to truly protect your investment income, you need to put your investments in the hands of the right people.
Memphis Invest knows not only the right markets and properties you need to succeed but has the resources to keep your passive income coming in strong.