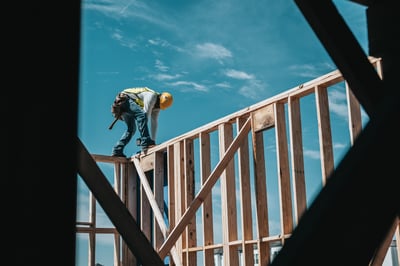 History has demonstrated time and time again the valuable role real estate plays in the economy at-large. Unfortunately for us, the most recent example of real estate's power in the economy was an anomaly — The Great Recession, as we know, was a devastating economic crash that was directly tied to the subprime mortgage crisis. It took decades for the economy and housing markets to recover in the aftermath.
The housing bubble burst in 2008 and we all felt its effects for a long, long time.
Unfortunately, this has skewed our perception of the real estate market and its relationship with the economy. The truth is, real estate is a relatively stable asset class typically unaffected by price bubbles because real estate discourages speculative behavior.
We'll put it this way: it is rare for the housing market itself to pull the economy down. We see that the strength of the housing market fuels recovery more often than not.
Even when we consider the Great Recession, it was not real estate that directly caused the sweeping financial crisis — it was subprime mortgage lending, among other factors. Because financial institutions were lending irresponsibly, the eventual correction of the housing market (when the bubble burst) created a domino-effect that devastated these financial institutions and toppled the U.S. economy, at least for a time.
Of course, we're living in a far different world now than just over a decade ago.


The Shifting Real Estate Cycle
We've mentioned before that at the beginning of 2020, many real estate experts were predicting a housing bubble and its bursting. After all, it seemed as though we were overdue for market correction as home prices in markets across the United States grew increasingly unaffordable.
Of course, no one could have anticipated the COVID-19 pandemic or how it impacted the real estate market. We were surprised to see that 2020 saw more gains in real estate value than any year since 2005.
Experts don't see those gains cooling in 2021, either. Spurred on by buyer interest, home construction is firing back up with more confidence than they've had in a long time. New home construction will help keep the supply and demand balance in check, while low mortgage rates will continue to fuel homebuying.
It looks like we're set to be in the "expansion" stage of the cycle for longer than many anticipated.


A Typical Real Estate Cycle
We know the four stages of the real estate cycle:
Recovery
Expansion
Hyper Supply
Recession
We've long been in the "expansion" stage of this cycle because supply has yet to catch up with demand. Homebuilding efforts have struggled to keep up with inventory since the Great Recession rattled the industry. Despite increasing confidence in the construction sector, a lack of labor has kept their pace in check.
There's no real consensus on how long the whole real estate cycle takes before it repeats itself. Some say as few as 9 years while others say 20 is more the norm.
Evidence suggests that we're on the verge of another housing boom: one that could last for at least a decade. This is largely due to the inevitable progression of technology in the real estate sector. This makes the market more agile than ever!
As we've seen recovery and expansion for over a decade already, we have to wonder how long it will last. Patterns demonstrate that most of the time in the cycle — usually around 15 years of it — is spent in recovery.
Signs point to continued market expansion into 2021 and in the years to come. What we will see, as the coronavirus pandemic becomes more and more under control, is a bounce-back of the GDP and economy...led by the strength of the real estate market.
While it is impossible to truly predict the real estate cycle, we can acknowledge that we, as investors, do best when we plan for long-term gains. Real estate is unlikely to see a shake-up any time soon. Even if it does, buy and hold real estate investment is a reliable, time-tested way to build wealth regardless of our stage in the real estate cycle.
Don't know when to invest in real estate or where to begin? Your REI Nation advisor is waiting for your call.