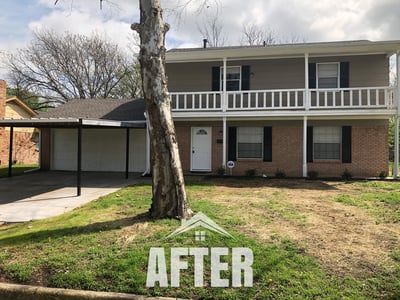 This week's Transformation Tuesday comes from the Dallas-Ft. Worth metroplex! This two-story home was full of potential, but needed some serious work to truly shine and become a high-performing asset. Our expert team of contractors was able to transform this house from the inside out. To see the incredible before and after photos, keep reading!
Maximizing a budget of $73,000, our team began on the outside. After installing a new roof, we repaired the balcony rails, foundation, laid down a new driveway, and applied a fresh coat of paint. Next, our team stripped away the leftover floorboards and laid down vinyl plank flooring and carpet in the bedrooms. After applying the finishing touches, the final results of this home are a testament to the quality that REI Nation delivers.
The Dallas - Ft. Worth metroplex is a steadily growing hotspot for turnkey investors. 2021 forecasts the Dallas area — along with many other REI Nation markets — to flourish in real estate demand. The growing population has been happening since the '60s, but has significantly increased in recent years with no signs of slowing down.
Related Article: Markets to Watch for Buy-and-Hold Investors in 2021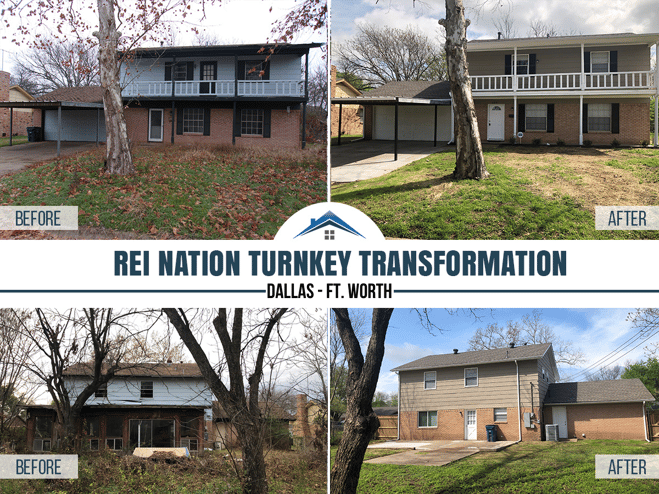 About this Transformation:
The owner of this Turnkey Transformation is located in California; this is the fifth property that they have invested in and had managed by us. Here is additional info about the home:

- Built in 1965
- 2,040 sq. ft.
- 5 bedrooms, 2.5 bathrooms
- Lot size of .22 acres
- Installed New Roof
- Installed New Fence
- Installed New AC
- Installed New Air Handler
- Installed New Water Heater
- Installed New Dishwasher
- Installed New Blinds Throughout
- Installed New Light Fixtures
- Installed New Carpet
- Installed New Vinyl Plank Flooring
- Replaced all damaged/rotten wood/trim/siding around house
- Painted all walls, trims, doors, closets, ceilings, and cabinets
- HVAC, Electrical and Plumbing inspected and repaired by a Licensed Professional


Let REI Nation transform your financial future!