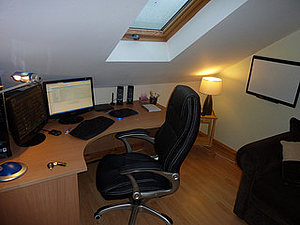 Generally, it makes a lot of sense to make a property as attractive as possible to as many potential tenants as possible. Once it's ready, you want your property to be rented by a reliable tenant as quickly as possible.
That said, there's also something to be said for customizing a property for a specific renter demographic under certain circumstances. Perhaps the area in which your property is located is extremely competitive in regard to landing tenants. Let's say, for instance, that your property is located in a neighborhood with multiple other rentals that have been vacant for a significant amount of time. You need to do something to make your property stand out -- something to make it more attractive to prospective renters.
It's in a situation like this that it might be wise to add a couple of bells and whistles that cater to the specific demographic you expect to be renting in the area in which your property is located. For instance:
If your property located in a good neighborhood near a highly regarded day care, it should be very attractive to potential renters with small children. You could child-proof your property with corner guards, outlet covers, baby gates, etc. For a relatively small investment, you can make your property stand out above the others. After all, you've just taken a little bit of headache out of the moving process for some parent(s)!
Let's say your property is located in an area that's proving to be popular with young professionals. You can make it attractive to them by installing a small bar. Or how about adapting a second bedroom into a home office? Or both? Just be sure not to have them too close to each other. On second thought… (Kidding! Well, mostly.)
Of course, these are just a couple of ideas. Feel free to add whatever touches your imagination -- and budget, of course -- allow! Sure, you have to spend a little extra money to customize a property for a specific demo, but if it draws a quality long-term tenant, it's an investment that will pay for itself many times over.
Do you have more tips for catering to a specific renter demographic? Please share them with your fellow Memphis real estate investors!
------------------------------------------------------------------
Not interested in being a hands-on landlord? Learn how to be hands-off and invest in high-quality investment properties from out of area!