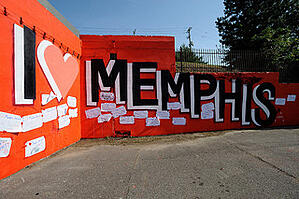 Sometimes Memphis doesn't get as much credit as it deserves. Every city has its problems and Memphis is no different — but Memphis has a lot to offer its residents, its visitors and even real estate investors! It's where rock 'n' roll began and home to great food, great music and a lot of heart and soul. We love Memphis. Part of being a good real estate investor, even if you don't live where you own rental property, is knowing your market and having a great team in place to help you. That means knowing the people, the city, and being able to sing the praises of the area and your partners. If you cannot do those things...keep looking!
Memphis has a lot of appeal, not just in real estate investment opportunities, but also for families and people seeking a lively culture. Read on below to learn just a few of the things that make Memphis an attractive real estate market!
----------------------------------
Join Us In April For Our Memphis Invest Celebration 2014 ~
April 25th & 26th
Click The Images Below To Get the Details!






----------------------------------
Getting to Know Memphis
Culturally Rich
Memphis is home to the blues and the birthplace of rock 'n' roll. Sun Studios is a famous Memphis attraction, where Elvis Presley, Johnny Cash and countless other musicians created influential and iconic music. FedEx, Autozone, Holiday Inn and even Piggly Wiggly all found beginnings right here in Memphis! As part of the South, too, Memphis is naturally a place where you can find fantastic food. We're not just talking barbecue, either, though Memphis does that exceptionally well. Whether you're after Southern food fare, barbecue, Vietnamese, vegetarian and vegan options, Greek, Mexican and everything in between, Memphis is a hotbed for creativity in food as much as music. The culture is alive and kicking here in Memphis and we love it.
Family-Friendly
Good news for young families looking to put down roots in Memphis. Not only is the Memphis Zoo one of the best in the country, but there's also the wonderful public library system, Children's Museum, Dixon Art Gallery, Stax Music Museum, Graceland, miles of greenway bike and running trails and plenty of public parks and playgrounds for the kids to enjoy. Public transportation is good across the city while they are even planning on ways to improve. The downtown is a fun place to explore as a family with lots to do from entertainment to food and kids love the trolley! It is just like any other major city in that safety and smart decisions mean you can have a great time enjoying what is a very vibrant city.
Low Cost of Living
The low cost of living is a major advantage to settling in Memphis. Goods and services are cheaper here in comparison to the rest of Tennessee, as well as to the United States as a whole. The cost of living in Memphis is 16% lower than that of the national average. Utilities and housing are cheaper here than many places in the U.S., which is great for your investments. Especially since...
Low Property Prices, Higher Rent Cost
While the cost of properties in Memphis is quite low by national standards, the rent price — though also low by national standards — is high in comparison to the cost of properties. That means generally good returns for investors who choose Memphis real estate. The returns are so favorably, in fact, that Memphis' real estate market has caught the eye of many a foreign investor.
Memphis has plenty to offer for investors and renters alike. In many ways, the city is still a hidden gem.
What's your favorite thing about Memphis? Tell us in the comments.
Would you like to learn more about investing in real estate with a Turn-Key company?