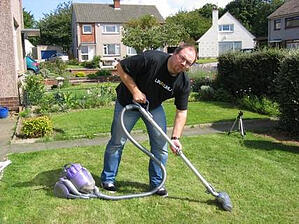 Curb appeal is king when it comes to your investment properties. Not only does a great curb appeal help catch the eye of good tenants, but it keeps them happy with their home over time. Spring is a vital time to do some work to spruce up your curb appeal. In fact, if you don't do some maintenance and landscaping in spring, your curb appeal is likely to suffer the rest of the year. This type of maintenance doesn't have to be painful chore, however; here are a few tips to make it easier.
Sprucing Up Your Investment Properties
Pull out the power washer.
A rental will cost you about $50. Take the warmer weather as a sign to power wash the exterior of your property. Get rid of built up dirt and grime and give those windows a good rinse. When you're finished, don't forget to repaint the trim. A new, fresh color is an inexpensive way to brighten up a property.
Clear away dead plants and debris.
Winter takes its toll on the exterior of a property. Clear out any dead shrubs, flowers or other plants that need to be replaced. Sticks, leaves and storm debris also need to go. Mow the lawn, trim hedges and make sure pruning gets done. For flowering shrubs, prune after their flowers have bloomed.
Clean the AC Coils and Replace Filters.
Air conditioning units are a huge expense for owners. In our business, we are replacing 7 out of 10 AC units on new properties that are being renovates, so these are a very important system to our company. We want to keep them in good working order and running properly. If you are the landlord of your property, cleaning the coils is a very good idea right now and dropping off a new filter for your tenant is a plus. Keeping this expensive unit in good running order is very important.
Ready the beds.
Once you've cleaned flower beds of sticks, leaves and debris, it's time to do the prep work for new planting. Trim down dormant ornamental grasses and perennials to the ground. Turn the soil in your beds and invest in some new mulch. A fresh, ample layer will brighten up your flower beds.
Plant a mix of perennials and annuals?
This is one of those that most would say is a waste of money. In fact, I am not convinced that this needs to happen with every property. But there are houses and there are locations where this will matter. On some properties, even those with current tenants, this can make a huge impression. With a mixed bag of perennials and annuals, you'll have the opportunity to keep your flowers fresh (as annuals must be rotated out and replaced) while also saving with longer-lasting perennials. Make sure you space each plant out so that the perennials and annuals are next to one another.
Too cold? Plant in containers.
It may be too cold in your part of the country to put flowers in their beds just yet. If that's the case, it doesn't mean that your investment properties have to go colorless. Invest in some colorful pots and plant your flowers there for the time being. You can line them up on the front porch or steps, or even put them inside the house in a window until it's warm enough to plant outside. Your curb appeal doesn't have to suffer during a chilly springtime.
Clear the gutters.
It's likely that you've accumulated dead leaves in your gutters during the winter months. To keep your investment properties looking good, take on the task of clearing them out or hire a professional to handle it for you. The same goes for any ditches or drainage pipes around the property that have become clogged. Keep the property looking neat and tidy while also preventing yard flooding from spring showers.
The gutters are also an area that preventative maintenance comes into play. You MUST keep gutters cleaned to prevent issues with water damage. If the gutters are clogged will there be water damage? Not necessarily. But it could happen and clogged gutters invites it to happen.
Curb appeal is an all-important factor to real estate investment. You can't afford to neglect it.
How are you preparing your property for spring? Tell us in the comments.