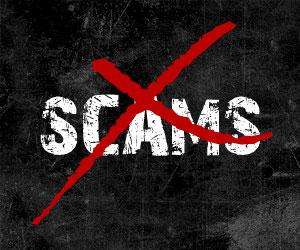 The majority of the time, when you see something involving "rentals" and "scams," most people are expecting to find landlord horror stories and tales of tenants being mistreated. The real estate investor, the landlord or the property manager, in most cases, are the villains of the story. But did you know that there are would-be renters out there looking to take advantage of landlords and real estate investors?
Unfortunately, it's true. Some may be after your money, while others are just willing to lie in order to have a safe rental property to live in. No matter the motive of the scammer, however, protecting your assets is your number one concern. You can't help good tenants find a good home if you find yourself in a bind.
Types of Renter Scams
Malicious Scams
These scammers are concerned with cheating you. They want your money and have no real interest in your property. These scams are not as common, but they exist and can be devastating.
False Check Refunds
These people pretend to be renters and agree to pay a security deposit sight unseen. They send fraudulent cashier's checks that exceed the agreed amount, after which they demand compensation for overages. After you give them a partial refund, you find that their payments were frauds.
Lawsuit Scam
Unlike the check refund scam, lawsuit scams involve real people signing your lease and really moving in — only to invent an excuse for a lawsuit, often something that will garner sympathy from the public, such as mold or lead paint or generally health-hazardous situations that they can fabricate. While they may lose the lawsuit in the end, during its duration they're likely to be living in your property rent free and the court may prevent you from evicting them. That can last a long time and cost you a great deal.
Smoke and Mirrors Scam
This scam victimizes both landlords and renters. The scammer takes your legitimate photographs and fabricates false listings for rental properties to draw renters into some kind of scheme. The problem for you? Your real listings may be overlooked when placed next to a more cheaply priced counterfeit.
Little White Lie Scams
These scams are on a smaller scale and generally aren't born out of malice — just selfishness. They include renters targeting mom-and-pop landlords who don't require background checks. They'll identify these landlords often by where they post their advertisements — free on online forums, free community bulletin boards, and so on. They also may get a friend to pose as a previous landlord with fabricated facts about their previous rental, personality and payment. The white lie could be as small as not telling you that they have a pet until they show up with Fido in tow.
White lies are often intended to secure a lease, despite the renters' bad credit or track record with other landlords.
Avoiding Scams: What You Can Do
Always screen tenants. Do background and credit checks on every tenant who applies and look for red flags on their applications.
Conduct screenings via telephone and put them on the spot in interviews. Verify everything. If they've ever sued their landlord, look for tenants elsewhere.
Limit the information that you give on listings. Use the intersection or general street name instead of the specific address.
Use an alternative phone number. Instead of giving your home or cell number, utilize services like Google Voice.
Watermark property photographs to prevent theft.
The business of real estate investment can be profitable, which makes it a prime target for scammers. Protecting your assets through knowledge and rigorous attention to detail is important to keep your investment career free of the painful pitfalls of renter scams.
Have you ever spotted a renter scam? Tell us about it in the comments.
--------------------
Are you making these mistakes? Learn the top 11 mistakes to avoid when investing in real estate.