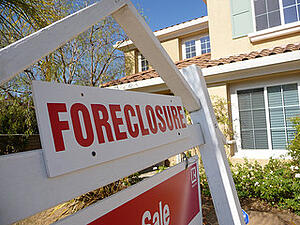 Some investors have ongoing concerns regarding the real estate market, particularly when it comes to a relatively weak demand for homes. There's some news to be celebrated right now, however. The number of lenders that have initiated real estate foreclosures has fallen to the lowest level it's been in almost 8 years.
In March, 88,000 properties were subject to foreclosure according to the mortgage research firm Black Knight Financial Services, which is down by 27% compared the same time frame last year. In light of the all-time high of 316,000 foreclosures in March of 2009, that's a pretty impressive decline.
People expect that the decline in foreclosure rates will continue going forward.
Right now, 1 in 10 borrowers is underwater (or owes more mortgage than their homes are worth). While that's still a high statistic, keep in mind that four years ago, the rate was 1 in 3.
Investors Figuring Into Foreclosure Rates
Four years ago, a large percentage of foreclosed and distressed properties hitting the market caused massive problems while demand was weak. Low home prices and interest rates resulted, and real estate investors flocked to the scene to snatch up affordable rental properties to earn great returns. Funds and buying syndicates formed specifically to take advantage of buying foreclosures arrived on the scene and in some U.S. markets they began buying foreclosed properties in large numbers.
Of course, as the number of homes being foreclosed or already foreclosed upon has decreased, some investors will disappear from the market. It takes more effort to find deals and good properties for investments. That does, however, mean that the market is no longer swamped by an overabundance of properties.
Should Real Estate Investors Continue?
Absolutely. Though the ease of buying investments is not quite the same as it was in the heyday of record-high foreclosures, it's no reason for an investor to panic. The state of the market returning to normal is a good thing. It's something to be celebrated by homeowners and investors alike.
Still, as the market recovers, rental properties remain in-demand and relevant. While the real estate market may be moving toward recovery, other areas of the economy are still suffering. Recent college graduates, who find themselves unable to find a stable, decent-wage job while paying student loans, are far more likely to rent. In fact, it's often their only choice as they may struggle to get approved for a mortgage, even when they wish to own a home.
Real estate investors have helped bring the market back and are providing homes for those who are unable to buy a home or have been burned by foreclosures. As a real estate investor, you're helping someone find a place to call home - an important and meaningful role.
How does the decrease in foreclosures make you feel about the real estate market? Tell us in the comments.
------------------------------------------
Are you interested in learning more about our company and process?
See how simple it is to get started building your portfolio...
Click Below!