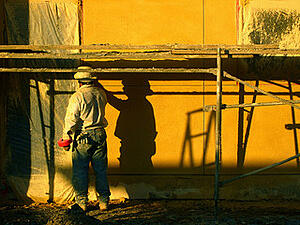 For real estate investors, property renovation can be a tricky business. In most cases, repairs and renovations are done primarily to boost the property value of an investment property. Investors go to great lengths upgrading kitchens and adding on an extra bath to see gains in their bottom line. In some cases, the repairs and renovations are being done to boost the rental rates of properties.
There are many articles available online about which renovations boast the highest returns — and they aren't wrong. However, that doesn't mean that repairs and renovations that don't show an immediate difference in profitability aren't worth the trouble. You should also pay close attention to which repairs and maintenance make sense for your particular type of property and your investment properties location. Location can make a big difference in which repairs and even upgrades make sense. Remember that little tweaks can go a long way.
Justifying Your Property Renovations
When looking to help your property value through renovations, repairs and remodeling, you must always be able to justify it. Why are you doing what you're doing? It's easy for real estate investors to fall into faulty thinking — that a huge, $30,000 kitchen overhaul will mean a $30,000 increase in the overall value of the home. That's simply not the case in most areas! The difference is more likely a gradual increase in value that won't be immediately evident.
The same goes for rental rates. Just because you splurged as an investor and put in granite countertops or upgraded cabinets and floors, that does not mean you will get a higher rental price. Rents are based on the prospective tenants' emotional response to the home itself, but they also depend on the presentation. A great rental agent can help you get a higher rental rate - an investment that probably means as much, if not more, than the renovations performed on a property. So before spending extra dollars on big upgrades expecting higher rents and higher sales prices, remember that not all upgrades and renovations will affect the pricing of the home the same way.
That why, for property renovation, it's especially important to pick your battles. Look at the big picture before making any decisions. Think about your goals and remember that not all value comes from percent increases or a heftier monthly rent.

How Far Is Too Far?
Remember that, as a real estate investor, you aren't generally making repairs and remodels with selling in mind. Renters and buyers have very different mentalities, and you need to consider your target audience.
In general, buyers are going to be more picky. They're going to own the property and want to see it as perfect as it can get, from paint colors and countertops to AC units and plumbing. Renters tend to be less picky about some aesthetics, such as paint and lighting fixtures. While that's not to say that you should ignore these things, keeping the renter in mind will help you prioritize and narrow down necessary renovations.
You do want your property to look nice and have functional amenities, but renters also understand that if something breaks, property management takes care of it. It isn't their home or property — it's yours.
So don't worry about tackling every renovation under the sun right off the bat. You can take care of them over time. Renovations are time-consuming and expensive.
At the end of the day, something as simply as a new, well-painted front door can add good value to a home. Maybe not in numbers, but because it made your new tenant feel welcome and safe and rescued you from a prolonged vacancy.
The numbers don't always reflect reality. Sometimes, less really is more.
How do you prioritize your renovations? Let us know in the comments.
---------------------------------
Download our FREE video on the 11 mistakes to avoid as a real estate investor!