For all of our investment real estate clients and even interested investors who have been asking for an easy way to see properties on the go, we are releasing the first version of our smart phone app. Memphis real estate is hot and our new app is just one of the new ways we are developing for investors to stay on top of what's going on here at Memphis Invest...AND the download is F-R-E-E!
This new smart phone app will not only make it easier to see what properties are available and quickly get the facts and figures, but it is also a great way to connect directly to MemphisInvest.com either by phone, email or direct message.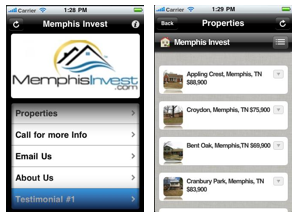 "This is a really good tool for us and for our clients" thinks Marq Cobb, director of portfolio advisement at Memphis Invest. "It is a quick and easy way for someone to access our site and see the investment properties as well as view testimonials and connect directly to us".
The app also makes it easy for investors to share information about Memphis Invest with their colleagues, friends or other interested investors. With access to pertinent information on the city and the company, the app is a great new communication feature for Memphis Invest.
Get the I-phone App by visiting the App store in I-tunes. It is listed under Free Business Apps.
Future upgrades will include push technology for investors to be able to receive real-time upgrades as Memphis Invest adds new properties to their website. Memphis real estate investing is a fantastic investment in 2011 with the right company and we are trying to continue to come up with new ways to make sure we are the right company!
All the Best!
Chris