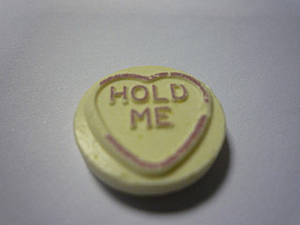 Alright, is everybody situated? Do you have everything you need for taking notes? Pencils? Notebooks? Highlighters?
Actually, who am I kidding? Laptops? Tablets? Smartphones? Good.
Today we are going to talk about patience. Now I know that many of you reading this may be getting a slight chuckle right now because the words "patience" and "Clothier" don't seem to really go together. But believe it or not, we are extremely patient in some areas and...well, we are aware of our need to improve our patience in others!
When we are discussing patience in real estate, we are talking about a tried-and-true investing strategy known as "buy and hold." Does anyone know what...Oh, yeah, there's not really any need to raise your hand; it's just a rhetorical...and waving it around like a maniac is not going to help me to know that you do know what it means.
A better way to go about this may be to explain without any questions.
At its simplest, buying and holding as it relates to real estate, is actually very self-explanatory:
Buy an investment property.
Hold on to the property allowing for a rate of return over time and let simple economics increase the value of the property through appreciation while your return on investment continues.
Pass the property on to future generations as the return on initial investment grows or sell the property at a higher sell price capturing any appreciation.
Seems simple enough, right? Well, the concept is definitely a simple one, but like most successful undertakings, nuance and educated decision-making factor into the equation. Memphis Invest is here with a few key principles you should understand that can help you properly apply the strategy in your overall investment game plan.
1. Think Long-Term
This is not like flipping, where the object is typically to resell for a profit as soon as possible after you buy. Buy/hold is a long-term strategy, so it's going to require some patience. It's a passive form of real-estate investing, so you have to be willing to sit back and wait while the market does its work. Excellent rental property management is a key to the long-term success of this strategy. Unfortunately, poor property management can hurt a great investment property and great property management will have little success with improving a bad investment property. So the right property coupled with the right property management are keys to the success of a long-term buy/hold strategy.
2. Money Makes Money
This is a strategy that works best when you have enough capital to sustain your business during the sometimes-long "holding" periods. If you're renting the property (a great way to allow it to generate income while you're waiting for it to appreciate), you'll need to have enough to pay for general maintenance, repairs, etc. during this period. These are considerations that must be weighed when deciding if this approach is best for you. Using leverage is an option, but not always the best option when buying with this strategy.
3. Research, Research, Research!
It's very important to research the market to determine which property is the ideal candidate for a long-term by/hold portfolio. Perhaps the property in question is undervalued for causes that can be remedied inexpensively. Or maybe it's located in an area you have good reason to believe will see an increase in value over the long haul. I really like to invest in properties that are located in what I call the path of progress. It is important to see new construction, updating of existing construction and even development of new parks, recreation and maybe even government or civic buildings. Properties in areas like this I love, even if they cost a little more.
4. There Are No Guarantees
If all property were guaranteed to never have a vacancy, or to produce income each year without having a maintenance issue or even appreciate with time, any investor with half a brain and the capital to pull it off would be crazy not to use this long-term strategy. This is not the case, however. Despite your best efforts -- despite your good planning and good research --sometimes investment property experiences headaches. We are all playing a game of percentages. If you know this going in and don't let individual failures, setbacks or one years' poor performance distract you from a sound overall investing strategy, you're on the right track.
Do you have any other thoughts on why buy and hold is a solid investment strategy? Leave them in the comments!