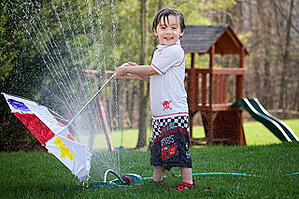 Spring is here! Things are warming up around the country little by little, and that means investors should be turning their thoughts to Spring and Summer trends for real estate, particularly when looking for new tenants and buyers. Besides regular maintenance and renovations, perhaps it's time to consider increasing value through outdoor amenities.
Generally speaking, good amenities and drawing points not only help your property stand out as desirable, but that added value can be extra cash in your pocket, either from a sale or from monthly rent payments. Outdoor retreats have become popular among homeowners — and investors might need to take a page from their book, especially in prime outdoor seasons.
So what kind of outdoor amenities can boost your property value and help your success in real estate investment?
4 Outdoor Amenities for Real Estate Investors to Consider
Creative, Atmospheric Lighting
Outdoor lighting is important for rental properties in general. Proper lighting helps keep tenants safe from ill-intentioned folks who would benefit from shadows to skulk in. Going the extra mile into amenity, however, is a little different. Mood lighting can really transform a backyard into a retreat if done well. There are plenty of options, too — colored lights, landscaping and path lights, hanging lights, you name it. They're a plus for security, adding drama, and upping your property value.
A Deck or Patio
If you don't have a deck or patio, it may be time to look at one. While the cost of installation can be a bit steep on the front end, having a dedicated outdoor space for tenants to enjoy can have a solid impact on value. There are plenty of options for materials, including wood, composites and concrete. Be sure to carefully research the maintenance needs and lifespan of each before making a decision. Still, a cost vs. value study from 2013 in Remodeling Magazine projects a 77% return on investment for decks.
Deck Awning
What's better than a deck? A covered deck. Awnings can get expensive, but they offer that much more value in a deck, opening it up to be used even on the hottest of days and during rain. They can also protect furniture and grills that make their home outdoors.
Outdoor Bar or Kitchen
Nothing says luxury quite like like an outdoor bar or kitchen. These are growing in popularity, but investors must remember that they're not right for every property and require significant effort to install and maintain. They also can only really be enjoyed in nice weather. Still, bar and kitchen-like amenities can be implemented into many decks and patios without going to extremes.
For those of you laughing at the thought of putting something like this in, consider that not all investment properties - and certainly not any that I recommend buying - are in traditional rental areas. Many investors are opting to invest in more established and pricey neighborhoods. Some are investing in furnished rentals provided for short-term rentals at nearly double the standard monthly rate. These types of properties would be an excellent place to install an outdoor amenity like a bar or living space to attract a client that is looking for that home away from home.
Bonus: Not a Swimming Pool.
Swimming pools look nice. Swimming pools feel nice. But swimming pools are almost never worth it for investors. They require constant maintenance, create new liabilities and can deter buyers and renters rather than attract them. If real estate investors want a pool, they can save it for their own homes.
Before we turn our noses up to any of these ideas, remember this one point about selling. When you rent your property, you are selling a renter on the vision of them seeing themselves living in this property. Use every advantage you can to achieve that vision...even if it means an unconventional outdoor amenity!
In your experience, what outdoor amenities have provided the best returns on your investment? Let us know in the comments.