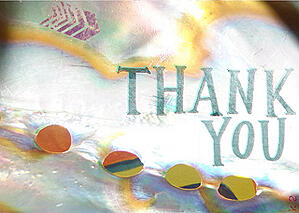 It's hard not to feel the holiday spirit this time of year. No matter what holiday you celebrate, there's something undeniably different about this season. It can be stressful, sure, but it's hard not to love warm feelings and those little extra acts of kindness. We have the nostalgia of Christmas music on the radio, festive decorations and the joy in buying presents for loved ones.
For real estate investors, the holidays are a great time to slow down and reflect on the year. What are you thankful for? Who are you are thankful for? Remember to show gratitude to those who have made your 2015 a good year.
Whether it was the constant support of a close friend, valuable advice or something else entirely, we can't forget to thank the important people in our lives for making our work possible.
4 Ways to Give Thanks Over the Holidays
Write Old Fashioned Thank You Notes
The art of the hand-written thank you note is something we need to bring back. There's nothing quite like knowing that someone took the time to sit down and pen their gratitude personally in a card. Whether it's for something else in the year or for gifts received, don't neglect to thank people in your life with personal thank you notes.
This is one of my favorite things to do. I love writing hand-written letters and recently ordered personalized note cards. Nothing can take the place of the time and care you take to write someone a short, quick note thanking them for whatever they help you through. It not only brings a smile and sense of appreciation on their part, but it can be very gratifying on yours. I highly suggest everyone reading this article take the time to write at least one short thank you to someone who has really helped push you forward this year whether in real estate investing or life....
Give to a Worthy Charity
It's not the season of giving without reason. Many people chose to give during this time of year! Pick a charity that you believe in and make a solid donation to their cause. Instead of giving in your own name, give it in honor of someone in your life who has made a great positive impact on you, or even anonymously. You don't need your name on it.
Give Gifts
You don't have to go all-out when it comes to giving gifts to people outside of your family. But consider your property managers, friends and business partners this season! A token of appreciation — a useful gift card, a thoughtful gift that shows you care, something, is just one small way you can show some gratitude. You don't have the be extravagant. Just give with a happy heart.
Related Article: 5 Kindle e-books you can give the real estate investor in your life
Remember to Recognize Good Work
Do you run social media for you business? Have a newsletter? However you choose to communicate with the public, this is a great time to give a shout out to the folks who've meant a lot to you this year. Recognize those in your community who're doing good work and going above and beyond. You never know how much a simple thank you and a little recognition can positively impact someone.
As for us, we're thankful for all of our employees and partners that have made 2015 such a great year. Let's move into 2016 with spirits bright and do something great together.
How will you show gratitude this holiday season? Share with us in the comments.