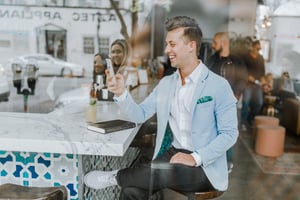 We all know that investing in real estate is a great way to generate passive income and build a long-term investment portfolio for building wealth and retirement. In fact, we're experts in this particular strategy! But what about other strategies and tactics to earn even more passive income throughout your life?
We all could use extra streams of income. There are plenty of ways to diversify your income streams beyond your career and even beyond your real estate portfolio.
While it's unlikely that these particular forms of extra cash flow will replace any primary sources of income or a full investment portfolio, they are smart tactics to potentially diversify your income.
That said, remember that passive does require work. We're not looking at zero-effort get-rich-quick schemes. All of these methods of earning passive income will require something of you: but in the end, you can reap great potential rewards. While some methods require more effort than others, everyone can find a niche that suits their pace and lifestyle.
6 Ways to Earn Passive Income Beyond Investing
Peer-to-Peer Lending
Peer-to-peer lending and private money loans provide a great opportunity to earn passive income if you already have the capital to invest. Sources like LendingClub create a simplified process to loan money to friends and associates with a return of 5 to 7 percent, give or take. Payments are monthly. Of course, there is risk involved with loaning money, so diversification is key. With private money loans you are more able to decide to terms of your agreement and the payback period, but you may have less control over the people you are lending to without a middleman or platform involved.
Related Article: 5 Golden Financial Strategies that Save Money Around the Clock
Write a Book
It's easier now than ever to write and publish books. If you've had a creative spark or a knack for writing, you have the potential to generate passive income through sales and royalties. With so many self-publishing options out there, as through Amazon Prime, the barrier to entry is low. Whether you want to write fiction or put helpful information out there on topics you have experience to share, this can be a great option.
That said, it's also time-consuming. A quality book can take months, if not years, to finish. If you want to be successful, do it because you want to do it, not solely because you want the income. You will likely be disappointed otherwise.
Design an E-Course
Through platforms like Teachable and Udemy, you can design and sell online courses to the masses. Naturally, this requires that you have specialized knowledge of a certain topic or skill. Maybe you want to teach someone about cars, or anatomy, or drawing. Maybe it's psychology or real estate investment. Whatever it is, you can utilize the knowledge you already have to educate the masses...and earn extra income.
Start a Blog
Blogging can be a simple way to earn extra income. While this does demand some time and upkeep on your end, it doesn't have to be all that demanding. Successful blogs can bring in tens of thousands if not hundreds of thousands of dollars each year through advertising and affiliate revenue.
When making a blog, you want it to be niche in order to stand out to your audience. Speak to your interests but to things that connect with a specific reader as well. It takes time to see monetary fruits from blogging, but it can be well worth the effort.
Sell Stock Photos
Stock photography does demand possession of a quality camera and knowledge of photography, at least on a basic level. However, you don't need a studio or models to make money on stock photography. You can license a package of photos that you take once (such as a pack of wedding-themed photos) and sell it to businesses for a flat rate. You can have a stream of income through these photos you took over the course of a day or two. It will add up!
Buy Stuff, Make Money
One of the simplest no-brainer ways to earn passive income is to utilize one of the many cashback tools and apps out there. Ebates (now called Rakuten) is one of the more popular of these platforms. As you shop regularly online, you can activate cashback rewards. Buying on supported websites gives you anywhere from 1 to 10 percent back. Each quarter, you either receive a check in the mail or a Paypal deposit.
This is a perfect method for anyone who does a lot of online shopping. However, it only works for those of us who already spend online. You aren't making any money if you go out of your way to spend just to get cashback rewards.
Get a leg up on your financial future. Check out these FREE resources from Memphis Invest.