---
On August 21, Inc. Magazine released their annual list of the 5000 Fastest Growing Companies In America....
And the Clothier family was honored to have Four Companies on this years' list.
Here are the 4 companies that were featured:
Premier Realty Group (#587) - Memphis
REI Marketing (#2604) - California
Memphis Invest (#2622) - Memphis
Premier Property Management Group (#2900) - Memphis, Dallas, Houston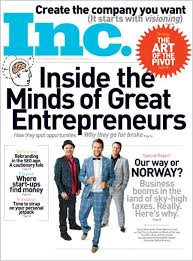 The four companies are all featured on the Inc 500/5000 full list of companies. For Memphis Invest, this was the fourth year in a row to be included on the list. What an incredible achievement!
For those that may not recognize the second company listed, REI Marketing, that is the company founded and operated by Kent Clothier, Jr. out of Southern California. REI Marketing developed and offers services including several educational programs and materials such as the vanity phone number brad 1-800-SELL-NOW, FindCashBuyersNow.com and FindPrivateLendersNow.com. Kent and his team have done an incredible job of serving the real estate investor community with quality products and services and they deserve this outstanding recognition!
Growing Forward....
Making the Inc. 500/5000 list is an amazing achievement for any company. We are blessed that three of our companies here in Memphis made the list this year and show the incredible growth that has occurred within our companies over the past 12 years.
We want to give a tremendous shout out to our incredible team that has worked hard over to improve and grow. With five offices in three cities, Memphis, Dallas and Houston, our team is now over 60 strong! Finding, renovating, managing and selling over 600 investment properties a year, our team works hard for each of our clients and these types of recognition are important, but none compare to thank you cards and letters we receive from you!
After her property went vacant on 7/22 and was re-rented on 8/4 and after an unfortunately high move-out cost, this is the email we received after calling the client to inform them it was re-rented:
"Thanks so much for the voice mail today. I'm sorry I missed you. I have THE worst summer cold. So excited you turned Harvest Hill around so quickly. You folks are the BEST!!!! Have a wonderful week!! " Sue M.
That email is all about our incredible team who turned around the property quickly, rented the property quickly and reached out to the owner, our important client/friend and let her know the results.
Not every house goes this smoothly or this quickly, but every time it does, please take a moment to tell the team how thankful you are!
Accolades like Business of the Year (which we have been honored multiple times), Pacesetter Award for fastest growing local companies or even the prestigious Inc. 500 Fastest Growing Companies In America Award, are all fantastic, yet none can compare to a thank you note from a client.
-----
Would you like more information on getting started with Memphis Invest? Click below and speak with someone today...