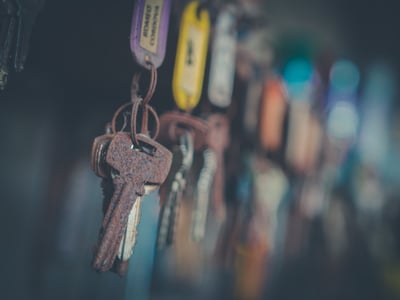 You've heard the billionaire success stories, and you've seen the statistics. You know that real estate is the best way to build lasting, inflation-resistant wealth.
But there are different ways to approach investing in real estate. If you're an average investor, you may not have all the resources and contacts at your fingertips to build an empire overnight. And you certainly don't have the time to do it all yourself.
But is turnkey real estate investment worth it? Out of all the strategies out there, why go turnkey? Let's talk about it.
What does "turnkey real estate" mean?
While you'll find variations on this investment model depending on your market and provider, here's the basic gist. In a turnkey real estate investment, you buy properties that have been pre-selected and analyzed by the experts for their long-term rental potential. Investors may buy properties pre-reno or post-reno, but either way, the property will be renovated to "turnkey" status. With the help of a property management team, resident candidates are identified.
Your management team takes care of lease details, background checks, and any other steps in vetting a new rental household.
Breaking it down to the essentials, turnkey real estate investment is this: a buy-and-hold real estate investment strategy in which property owners rely on a turnkey provider to supply market analysis, properties and their renovations, and reliable residents – along with property maintenance and repair. In many cases, portfolio advisory is also included.
The Realities of Turnkey Real Estate Investment
Reality #1 – It's more expensive.
We're never going to downplay the fact that turnkey real estate is more expensive on the front end than investing solo. You will pay a premium. But for plenty of investors, the extra cost is well worth it. You've got to weigh for yourself what kind of investor you want to be. The more hands-off you wish to be, the more you'll need to outsource to the experts.
For investors with active careers – or simply no desire to turn real estate into their full-time job – turnkey real estate provides feasible opportunities. When you're looking to invest in real estate, the cost isn't your only consideration. If anything, quality and value should come first! Excellence in service, quality of renovations, and mark analysis are key to your success. Never underestimate the value of these assets.
Reality #2 – It's about long-term results.
Investing in turnkey rental properties isn't going to make anyone rich overnight. But you're looking at long-term results here. Generally speaking, investors will purchase a property with the help of a lender. As the property generates passive income, that income pays down mortgage debt. Over time, that debt is paid off.
Effectively, at that point, investors have received the full equity of their property without having to pay more than their initial downpayment. And once their cash flow is pure cash flow, that gets paid back too. From there, you benefit from a paid-off asset that generates monthly income and increases in value over the years – allowing you to pass the property on to future generations or sell for cash as-needed.
Reality #3 – It leverages industry experts.
When we talk about leverage, we're almost always talking about taking on mortgage debt. This is one of the big advantages for real estate investors – they can utilize lender cash to make their acquisitions while minimizing their personal funds tied up in the deal. But this isn't the only kind of leverage.
Turnkey real estate investors very specifically leverage expertise. It's perfect for first-time investors because of this! You reduce the chances of making beginner mistakes. This leverage enables you to invest on the fly, learning as you go, without risking it all on your inexperience.
Reality #4 – It lends owners peace of mind.
At the end of the day, though, turnkey investing gives owners peace of mind. You know that your property is being selected and cared for by people who know what they're doing. Turnkey investors providers are all about replicating success. They allow you to access markets at a distance, opening up opportunities you wouldn't have thought possible on your own.
And, ultimately, you know that they have the expertise to do it right. So do your due diligence – find a provider with a track record you can trust and start building passive wealth through real estate investing!
Join thousands of turnkey investors building their wealth with REI Nation!