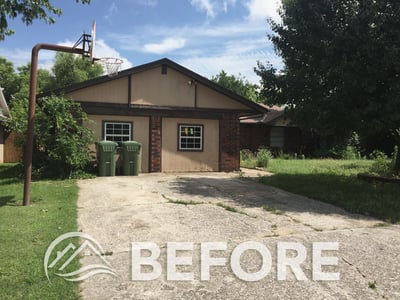 This week's Transformation Tuesday is a 44 year old house in Oklahoma City, OK. See how this outdated single family home gets some repairs done on the interior and exterior. We'll take a look at how our team was able to complete this renovation in just 51 days and $52,000! If you can remember our Transformation Tuesday from last week, you might recall the very "colorful" choices made by the previous residents. This property while a bit more updated- also had some interesting picks for colors of the interior as well.
Aside from color palettes or a lack thereof, most of the homes Memphis Invest purchases have to meet a certain level of criteria before we decide to buy the home. Despite the property being nearly 50 years old, the structure was very sound and the location was just right. Our team assesses each property to gauge what repairs need to be made, we seek the right vendors and forecast timelines so that can we decide if these properties are in the optimal locations and are most advantageous for our investors. Once we've decided that the property is 'just right', we immediately schedule all of our teams to commence and get work done as quickly as possible. From landscaping to painting and to electrical and roofers, everyone plays a huge part in making these properties shine and ready for residents and investors.
Related Article: How Oklahoma City Attracts Millennials with Affordability & Opportunity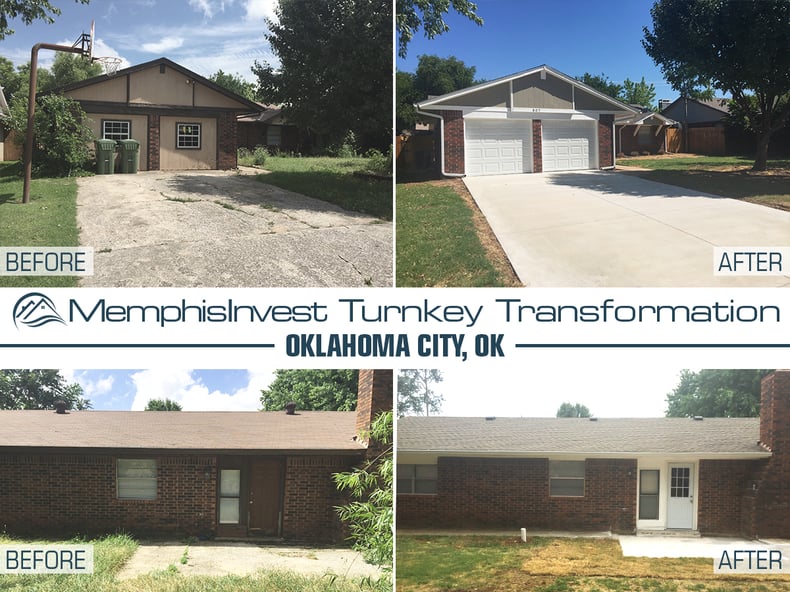 About this Transformation:
The owner of this Turnkey Transformation is from Maryland and this is their first property with Memphis Invest. Here is some additional info. about the home:

- 3 bedrooms, 2 baths
- House was built in 1975
- 1,479 sq. ft.
- Lot size of .15 acres
- Installed New Carpet
- Installed New Roof
- Installed New Flooring
- Installed New Light Fixtures
- Repaired & painted kitchen cabinets
- Installed New Dishwasher
- Installed Two (2) New Garage Doors & Two (2) Garage Motors
- Poured New Driveway
- Repaired All Cracks in Mortar Around House
- Repaired Concrete Around Foundation
- Replaced all damaged/rotten wood/trim/siding around house
- Installed New AC Unit
- Installed New Furnace
- Serviced Water Heater
- Painted walls, trims, closets and ceilings
- HVAC, electrical and plumbing inspected by a licensed professional

Check out Last Week's Transformation
Let Memphis Invest transform your financial future!