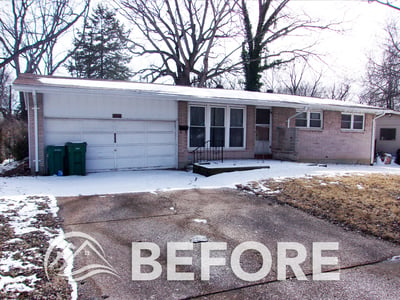 If you're like most people, you can probably remember a time when you made a 'bold' decorating decision. Sometimes they work, and sometimes these design choices are a little too far out, even for the most artistic of interior designers! Every once and a while at Memphis Invest, we find some really unique touches to the houses we acquire. I wanted to share today's 'Turnkey Transformation', where the previous owner wasn't afraid of color, and the bathroom vanity might be a little too vain for some!
I'm happy to feature one of the first St. Louis Market Transformation Tuesday properties (and we're sure there will be more to come soon!). While the exterior of this home was bland and had very little curb appeal, the interior was as if you had stepped into a home of the 60's or 70's! From the "Pepto Pink" bathroom to the mahogany wood and dated fixtures- this home was in need of some serious, modernized TLC. This renovation took us a bit longer than expected at 139 days and had a budget of $43,000. We did a complete head-to-toe removal of all fixtures and vanities to update the abysmal pink bathroom that was long overdue. See the list below for all of the updates and renovations that were made, and feel free to check out the before and after photos!
Related Article: Memphis Invest Brings Turnkey Investors New Opportunities in St. Louis, Missouri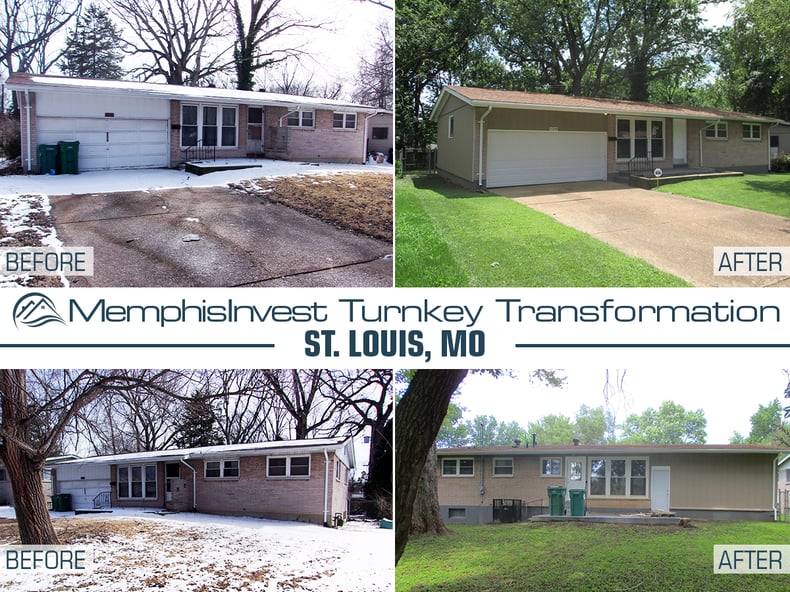 About this Transformation:
The owner of this Turnkey Transformation has sold 3 properties in the past year with the Memphis Invest. Here is some additional info. about the home:

- 3 bedrooms, 1.5 baths
- House was built in 1958
- 1,102 sq. ft.
- Lot size of .20 acres
- Installed New Carpet
- Repaired Existing Roof
- Installed New Flooring
- Installed New Fence
- Installed New Light Fixtures
- Installed New Blinds throughout
- Installed New Dishwasher
- Installed New Garage Door
- Installed New Garage Motor
- New Kitchen Countertops
- Repaired All Cracks in Mortar Around House
- Repaired Concrete Around Foundation
- Installed New AC Unit
- Installed New Furnace
- Painted garage floor
- Painted walls, trims, closets and ceilings
- HVAC, electrical and plumbing inspected by a licensed professional


Let Memphis Invest transform your financial future!