We've got another amazing transformation this week coming to you from Dallas--Fort Worth, Texas! This one was a doozy. With a rotten fence straight out of a horror movie and a slew of forgotten furniture littering the yard, our team wasn't sure what kinds of horrors might lie within these walls. Lucky for us, there's nothing our expert team can't flip from sham to glam.
Maximizing a budget of $63,500 our team made haste turning this home into a true neighborhood asset. We tore down the old, rotten fence and built a brand new one, and landscaped the front and back yard. After getting rid of the furniture left behind from previous owners, we laid down new floors and replaced everything from the light fixtures to the cabinet handles. The ending results are a polished, clean slate that can be seen for yourself below!
We've all heard the whispers about a recession on the horizon -- but what does this mean for DFW investors? They've got a nice cushion. There's an inventory squeeze in Dallas, an immense spike in jobs, and rental demand is growing just as much as the demand for traditional housing. With these facts, it's safe to say that Dallas is poised for strength even in the face of a possible recession.

Related Article:

A Dallas, Texas Market Update for Real Estate Investors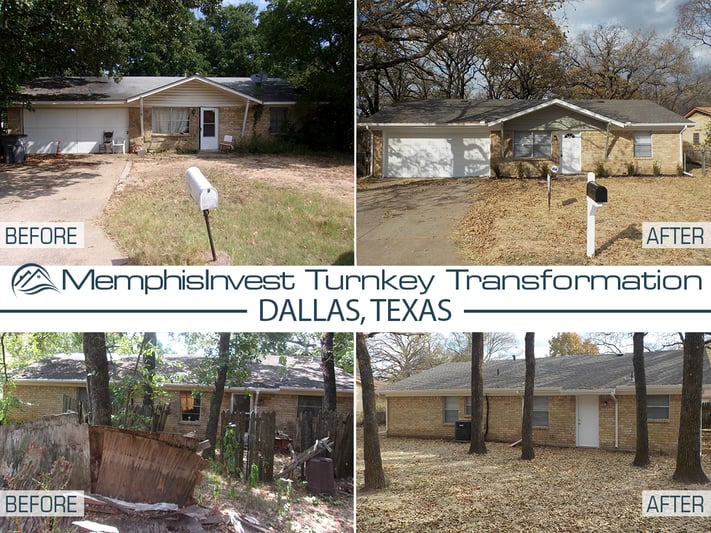 About this Transformation:
The owner of this Turnkey Transformation is located in New Jersey; this is their fourth property that they have invested in and had managed by us. Here is additional info about the home:

- Built in 1965
- 1,111 sq. ft.
- 3 bedrooms, 2 bathrooms
- Lot size of .17 acres
- Installed New AC Unit
- Installed New Furnace
- Installed New Water Heater
- Installed New Roof
- Installed New Fence
- Installed New Gate
- Installed New Hardware on Cabinets
- Installed New Dishwasher
- Installed New Carpet in Bedrooms
- Installed New Vinyl Plank Flooring
- Installed New Blinds Throughout
- Installed New Light Fixtures
- Replaced all damaged/rotten wood/trim/siding around house
- Painted all walls, trims, doors, closets, ceilings, and cabinets
- HVAC, Electrical and Plumbing inspected and repaired by a Licensed Professional


Let Memphis Invest transform your financial future!