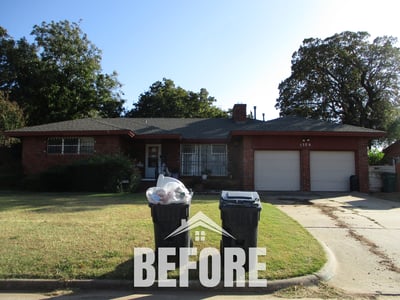 This week's Transformation Tuesday is located in Oklahoma City, Oklahoma! This house was bursting with potential: a spacious living room, huge windows to let the sunlight stream in, and an equally welcoming kitchen were all a few features making it so. However, trash, neglect, and a bad roof were all keeping it from shining. Our expert team of contractors transformed this home and turned it into something truly beautiful.

Maximizing a budget of $60,500 our team was hard at work transitioning this house from trash to class. We got rid of the skylights and instead created a cozy, caved in patio that would prompt any new resident to host an event outside. A new paint job, fresh flooring, and polished counters were just a few more touches we made to turn this house into a true home.
Oklahoma City might not be on everyone's radar when it comes to passive real estate investing. But this quiet town is a perfect place for millennials due to its economic expansion, healthy competition within the business sphere, and undeniable potential.
Related Article: How Oklahoma City Attracts Millennials with Affordability & Opportunity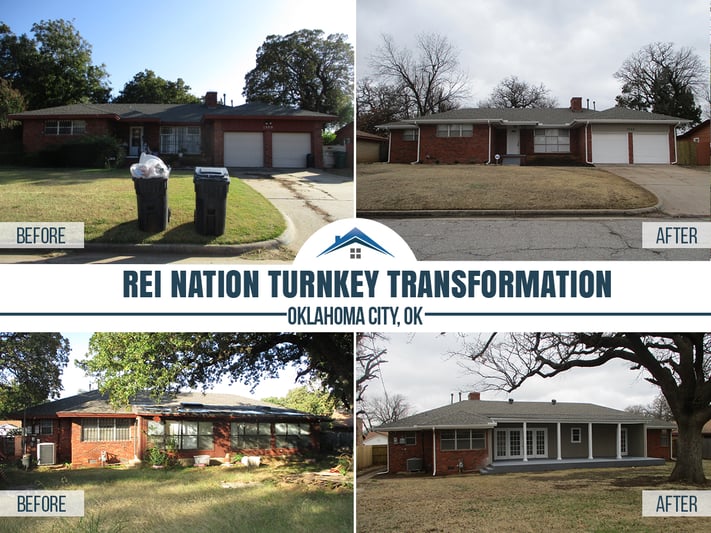 About this Transformation:
The owner of this Turnkey Transformation is located in California; this is their first property that they have invested in and had managed by us. Here is additional info about the home:

- Built in 1987
- 2,120 sq. ft.
- 4 bedrooms, 2.5 bathrooms
- Lot size of .27 acres
- Installed New AC
- Installed New Furnace
- Installed New Water Heater
- Installed New Blinds Throughout
- Installed New Light Fixtures
- Installed New Dishwasher
- Installed New Hardware on Cabinets
- Installed New Vinyl Plank Flooring Throughout
- Installed New Carpet in Bedrooms
- Replaced all damaged/rotten wood/trim/siding around house
- Painted all walls, trims, doors, closets, ceilings, and cabinets
- HVAC, Electrical and Plumbing inspected and repaired by a Licensed Professional


Let Memphis Invest transform your financial future!